Universal Design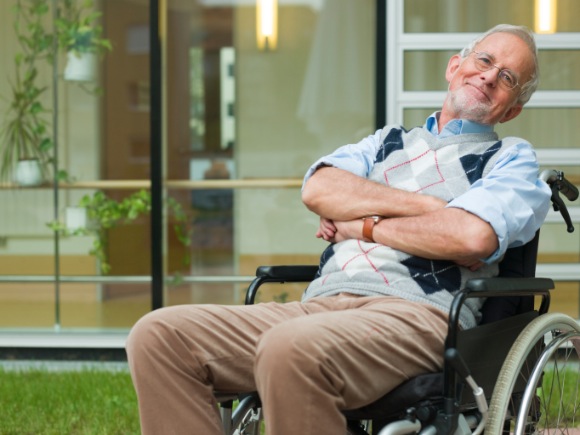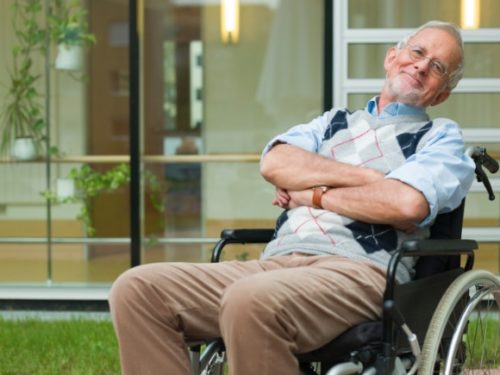 Universal design is the design of products and environments to be usable by all people, to the greatest extent possible, without the need for adaptations or specialized design.
 – Ron Mace
7 Principles of Universal Design
1) Equitable Use
2) Flexibility in Use
3) Simple and Intuitive Use
4) Perceptible Information
5) Tolerance for Error
6) Low Physical Effort
7) Size and Space for Approach and Use
VIDEO: 7 Principles of Universal Design
Products Patrick Likes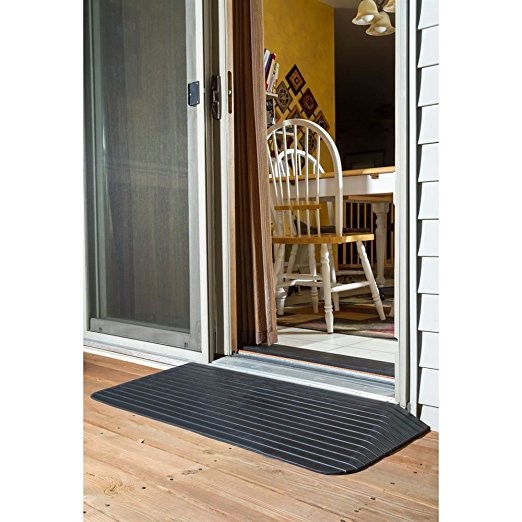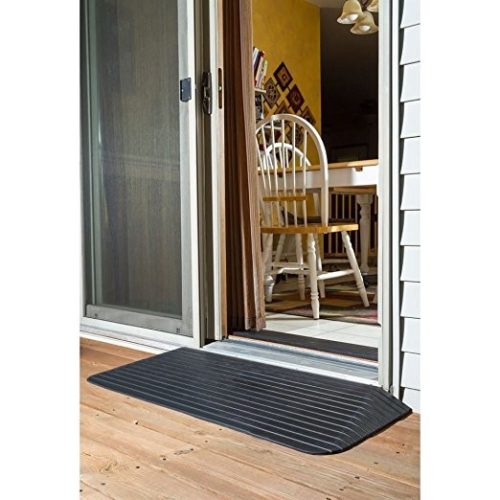 Silver Spring 2″ Solid Rubber Power Wheelchair Threshold Ramp
Universal Design is about creating an attractive, stylish space that everyone, regardless of age, size, or ability, can live in or visit. A home with Universal Design makes it easier for residents to live in, and for guests to visit now and in the future, even as everybody's needs and abilities change.
Home Features and Products Using Universal Design
The parts of a home that works well for everyone are Universal Design features. Incorporating them into your home in the pre-construction stage often adds little cost and is usually much cheaper than remodeling a house with traditional design features.
Having Universal Design features and products in a home makes good sense and can be so attractive that no one notices them — except for how easy they are to use.
Essential Universal Design features include:
No-step entry: At least one step-free entrance into your home — either through the front, back, or garage door—lets everyone, even those who use a wheelchair, enter the home easily and safely.
Single-floor living: Having a bedroom, kitchen, full bathroom with plenty of maneuvering room, and an entertainment area on the same floor makes life convenient for all families.
Wide doorways and hallways: With your home's doorways at least 36 inches wide, you can easily move large pieces of furniture or appliances from your home. Similarly, hallways that are 42 inches wide and free of hazards or steps let everyone and everything move in, out, and around easily.
Reachable controls and switches: Anyone — even a person in a wheelchair — can reach light switches that are from 42-48 inches above the floor, thermostats no higher than 48 inches off the floor, and electrical outlets 18-24 inches off the floor.
Easy-to-use handles and switches: Lever-style door handles and faucets, and rocker light switches, make opening doors, turning on water, and lighting a room easier for people of every age and ability.
There are many other universal design features and products that many people put into their homes, including:
Raised front-loading clothes washers, dryers, and dishwashers
Side-by-side refrigerators
Easy-access kitchen storage (adjustable-height cupboards and lazy Susan's)
Low or no-threshold stall showers with built-in benches or seats
Non-slip floors, bathtubs, and showers
Raised, comfort-level toilets
Multi-level kitchen countertops with open space underneath, so the cook can work while seated
Windows that require minimal effort to open and close
A covered entryway to protect you and your visitors from rain and snow
Task lighting directed to specific surfaces or areas
Easy-to-grasp D-shaped cabinet pulls
Source: AARP Home fit guide
WCNY Design for a Lifetime/AgeWise How to Age in Place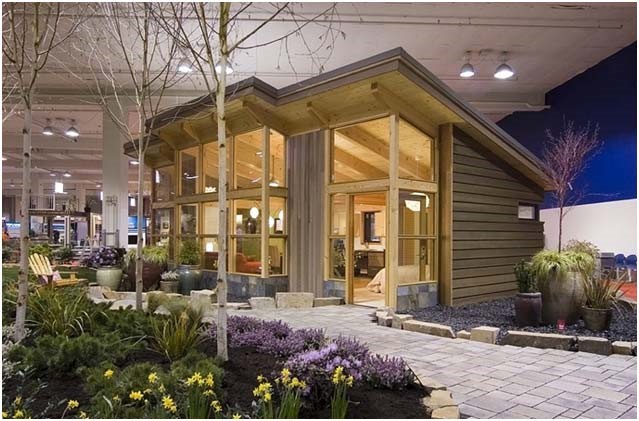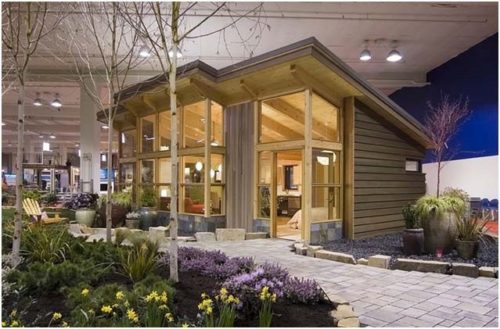 Universal Design Pre-FabVideo FABCAB (Prefabricated UNIVERSAL DESIGN home)
FabCabs are designed with a seamless, gradual entry that doesn't look like a ramp, rather it's completely integrated into the landscaping, feeling permanent and purposeful. In fact, using Universal Design elements often enhance the overall design: Using wider door frames throughout the space, as well as sliding doors with easy-to-use handles, actually, succeed in making space feel bigger and more open.
– Emory Baldwin FABCAB Founder (source: Fast Company/Alissa Walker)
Resource
#1 Source for UD in practice: Universal Design Living Laboratory
The elegance of Universal design is that it's invisible and non-stigmatizing. The design is so intuitive the experience is often effortless; "the universal design effect."
See my Review:
First and foremost, The Universal Design Toolkit is a love story between two individuals who risked turning a life-altering experience into a mission to make a difference. This is a book about resilience, contribution, and how to live fully—not in spite of limitations, but because of them.
The book begins with Rosemarie's accident, but it is not the focus, rather it provides context for the journey to The Universal Design Living laboratory; a showcase for those who seek the best practices in human-centered design and accessibility solutions for all.
This is hands-down the most comprehensive work on Universal Design I have read. It is written from an end user's point of view, so the emphasis is on practicality.
For all of us who will benefit from this work, we should be forever grateful that Rosemarie and Mark took to heart the theme: "Failure is not an option."  
 -Patrick J. Roden PhD aginginplace.com