Open Letter to My Colleagues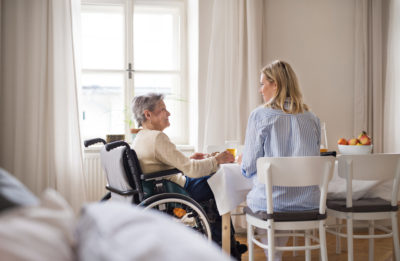 The closest thing to being cared for is to care for someone else.     
~Carson McCullers
Aging in Place
As many of you know I've been a caregiver to my elderly family members for the last 7 or so years. You have kindly inquired and we've shared experiences (and tears) of how we care for others in our lives—the good and the bad. I've so appreciated the support and at times hugs–you will never know how much. The past few years have been very challenging, I've had to respond to seemingly weekly emergencies, taking time off; WOP, Sick time, vacation days, floating holidays, all in the service of caring for loved ones in various stages of need. All of this done in a very public manner in the workplace.
I've also had to spend more time than I'd like on cellphones/ipad navigating the dizzying array of emails, texts, and interventions with multiple family members, friends, professionals, hospitals, ERs, and other various individuals that make up support networks. I've tried hard to balance my caregiving responsibilities with tending to my patients, my coworkers, and the needs of the unit. I haven't always been successful as I'd like.
As my care-giving duties come to an end, I'm heart-broken at the unthinkable loss of precious people, yet at the same time filled with the joy of knowing that I was there for those who were there for me. The cycle of life is ironic; these people were at many of my "firsts" (first day home, first day of school, first trike/bike, first camping trip, first graduation, etc.) and I was there for many of their "lasts." It's been an honor and the toughest thing I've ever done…
To Future Caregivers
I share this because I know many of you will be going through this same process in the-not-too-distant- future. It begins gradually, with a call: "Mom had a fall last night" and you find yourself suddenly thrust down a path you could have never imagined—doing things you never envisioned you'd have to do. It will require strength you didn't know was possible. The private victories and public defeats will challenge you to your core. Some will step up, others will vanish, you will cry uncontrollably in quiet moments, and experience a deep joy for small things. With each visit the bar will be lower and adjusting to new normals will be the norm. This is heartbreak on the installment plan.
We are caregivers and will often be the ones (expected) called upon to do the heavy lifting in many families—right/wrong, fair nor not, that's just how it is. It also means we possess Empathy, or the ability to recognize "otherness" and act compassionately. As such you will be required to juggle home/personal life, caregiving and your professional life–a balancing act that is often daunting. I say this because I don't feel the modern workplace is ready to accommodate the sheer numbers of willing or reluctant caregivers that we will all become at one time or another. There is an opportunity cost to caring, something has to give. I was more fortunate that most, I could make necessary sacrifices at times—but not always. For so many others the hardship will be more daunting.
Aging Society Challenge
In the era of living to advanced old age (many with chronic conditions that killed most people just 100 years ago) people will continue to live on long after the lifespan has exceeded the health-span. Our societal challenge of longevity is both a blessing and a curse. How to accommodate those who care for family members ("informal caregivers" don't get paid) and keep a job simultaneously? The work of caring falls mainly on women and the organizations that depend on them must be flexible and supportive enough to facilitate it.
When you are called upon to fill this role of elder caregiver for aging parents just know you will make mistakes, you'll question your decisions, have breakdowns and breakthroughs. Your work may suffer, errors will happen because you are human, and you love deeply. The people who care about you will offer support and forgive… Keep your focus on them they will help get you through hard times.
I want you to know, not if, but when you begin this journey you can call on me. I may not have solutions to your challenges, but I can listen and offer any hard-won insights I've gained. I pray our organization will rise to the occasion to assist all of us in our time of need. Be flexible, be understanding, be there for the ones who take care of others.
Be Well, Patrick Roden RN
See
"There are only four kinds of people in the world: those who have been caregivers, those who are currently caregivers, those who will be caregivers, and those who will need caregivers."
~Rosalynn Carter
8 Tips for Employees to Balance Work and Caregiving Responsibilities
1. Consider taking paid leave. 2. Use your workplace skills at home. 3. Make an emergency plan. 4. Use your network of support. 5. Talk about your home responsibilities. 6. Support your body with food and movement. 7. Know that your feelings are normal. 8. Get emotional support. (homecareassistance.com)