Aging in Place Space for Caregivers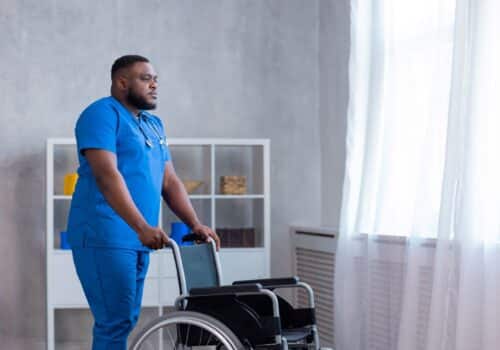 The simple act of caring is heroic.
~  Edward Albert
Aging in Place / Home Shorts Series
I have been a caregiver my entire adult life, both professionally and informally for family and friends. I've done some difficult things—caregiving has, by far, been the most challenging. What would have made it less so, in a word–proximity. Being closer to those in need eliminates a huge barrier to care. Housing could also be negotiated in the fee for caregiving services.
A private living space in your home for a caregiver is often overlooked in the aging-in-place plan—and yet could be a game changer towards greater "Inter-Dependence" and remaining home by choice. A caregiver space provides privacy, proximity, comfort, safety, companionship, peace of mind, and affordable housing for a caregiver.
Privacy- Consider converting a spare room or den into a caregiver living space with access to a personal bathroom, if optional.
Proximity- A caregiver space in the home or an accessory dwelling unit maintains proximity and continuity of care.
Comfort- Offer a caregiver space with WiFi, TV, furnished, private bathroom, and accommodations for their living space needs.
Companionship- Allow friends/family/pet of caregiver to visit and stay over for special events like Holidays.
Peace of Mind- Knowing you are sharing your living space can end loneliness and fear of being alone.
A place to live- Residential caregiver space can provide affordable housing for a caregiver/family, and being pet-friendly is a plus!
See
Where to find caregivers
Referrals: Ask friends, neighbors, family members and coworkers for caregiver recommendations. If they aren't using caregiving services, ask them if they know anyone who is and if they're happy with their care provider.
Medical organizations: Review the websites of local hospitals, health clinics, hospice organizations and other medical groups for caregiver resources.
Senior agencies: Reach out to senior centers and your Area Agency on Aging. They may be able to connect you with potential caregivers or put the word out that you're looking.
Caregiving agencies: Search for local agencies that provide in-home care services. Contact them to review possible options.
Post your job online: Try posting your caregiver job on Indeed to find and attract quality caregiver candidates.
Source: indeed.com (non-affiliate no endorsement by this author)
A caregiver Contract: Non-affiliate just posted as an example I have no connection to this website/business.
A caregiver agreement should include:
Service start date.
List of caregiving services.
Frequency of service.
A legal and financial plan.
A termination clause.
Backup plan for caretaker absence.
Example of a live-in caregiver/companion agreement in the state of VA