Neglected Medical Alert Systems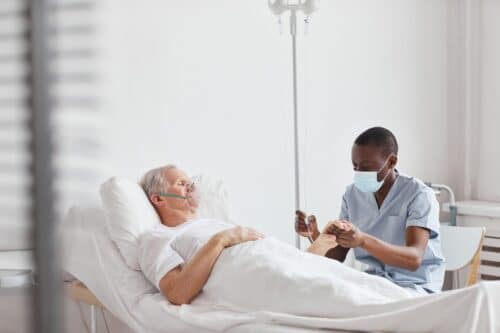 Even the best fall down sometimes.
Aging in Place
I was talking with someone this morning as she described an experience all too familiar to me. Her father (90 years old) fell in his home over night. He lives alone, and she is a frequent visitor who conscientiously cares for him. What triggered the event was his nonresponse to a daily scheduled check-in call. She called, he didn't pickup…She waited, called again, both numbers, no answer. This was not normal so she called the police for a wellness check.
In their plan, a key was kept in a lock box outside the house for neighbors, fire, EMS, or police if needed. In this case it was needed, he was found on the floor in bad shape and rushed to the hospital.
The real tragedy to this all too common story (the very same thing happened to my aunt), HE WAS WEARING AN ALARM SYSTEM DEVICE AROUND HIS NECK! He failed to use it when it mattered most. His daughter/caregiver had just gone over how to use the device and practiced it days before the incident. My own aunt fell and didn't use the device and there were multiple outlets around the home to hit the panic button–she never did.
Sadly for the 90 year old gentleman, and my aunt, that was the straw that broke the proverbial camel's back, she never returned to her home and neither will he…
Wearables
First, the problem with "wearables" is they have to be worn, this presents problems for many older adults. Secondly, for whatever reason/s many older adults fail to use them in crisis. The barriers to adoption must be overcome to assure safety for folks aging in place. My guess is that this won't be as much of a problem for the boomer generation in triggering them in an emergency–but getting them to wear a stigmatizing device in the first place will be where the heavy lifting comes in. This is the third issue, stigma.
Rhabdomyolysis
A common serious medical condition called Rhabdomyolysis occurs when an elder is lying on the floor for hours. Their surface area that is pressed against the floor by body weight causes a lack of blood/oxygen flow to the tissues. The skeletal tissues begin to die and sluff off into the blood stream, which then causes a cascade of detrimental events leading to kidney failure.
Rhabdomyolysis is a complex medical condition involving the rapid dissolution of damaged or injured skeletal muscle. This disruption of skeletal muscle integrity leads to the direct release of intracellular muscle components, including myoglobin, creatine kinase (CK), aldolase, and lactate dehydrogenase, as well as electrolytes, into the bloodstream and extracellular space. Rhabdomyolysis ranges from an asymptomatic illness with elevation in the CK level to a life-threatening condition associated with extreme elevations in CK, electrolyte imbalances, acute renal failure (ARF), and disseminated intravascular coagulation.
Source: https://www.ncbi.nlm.nih.gov/pmc/articles/PMC4365849/
This was my first thought when I got the text. I have taken care of many patients in ICU who went through this scenario, and many never survived it.
See
Look into a lockbox program in your community, contact the local fire department for help setting one up.
"This is good idea for anyone," says Steven P. Westermann of Kansas City, Mo., president of the International Association of Fire Chiefs. "It gives quick access without destroying property."
~AARP
On Medical Alert Systems…Practice, practice, practice…And have the talk, again.