Form Over Function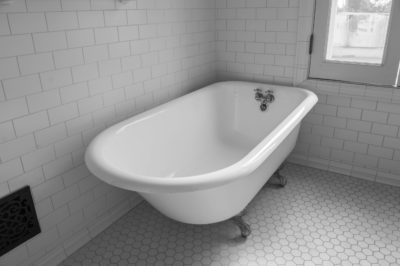 "I think grab bars are the new seat belt."
~Fritzi Gros-Daillon
Aging in Place
I was reading an article by one of my favorite content writers, Lloyd Alter. He wrote a piece titled: Seen at the Interior Design Show 2020: More killer bathtubs, which describes in visual clarity form-over-function at its most beautiful and deadly.
The walls are so thin that you cannot sit on the ledge and swing your legs over, you have to step into it. They are often set in places where it is impossible to install grab bars when people get older. (And people of every age fall. Grab bars are not just for old people.) This is a trend that should die because, seriously, it is a trend that can kill."
If you're interested in scary statistics on falls in bathroom (I'm going to spare you) they can be found on the CDC's website; they will prove the point that bathrooms are dangerous places for everyone, especially the elderly and especially women who are longer lived.
Peter Pan Bathroom
A Peter Pan Bathroom is part of a Peter Pan House, built for people who think they will never get old…A good thing to keep in mind if you intend to remodel your "forever home."
More practically for you to know are the points Lloyd Alter made:
Point #1  Showering in the tub is dangerous
Point #2  NEVER-NEVER buy a tub by how it looks (Form-Over-Function)
Point #3  Don't buy a 5ft tub: Short tub = Ends that slope = Trouble
Point #4  Build so you won't need to clean behind it
Point #5  Put backing in the walls so you can mount grab bars to tile later
Point #6  If you get a tub make sure it has a wide rim so you can sit on it and swing your legs over it
Other Options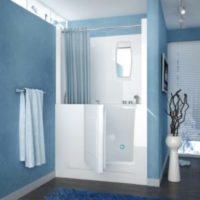 Walk-in Tub/Shower (seniorcomfortwalkintubs.com)

Tub-cut/tub-rail/grab bars (Seniorsmatter.com)
See