Barbie's (Forever) Dream Home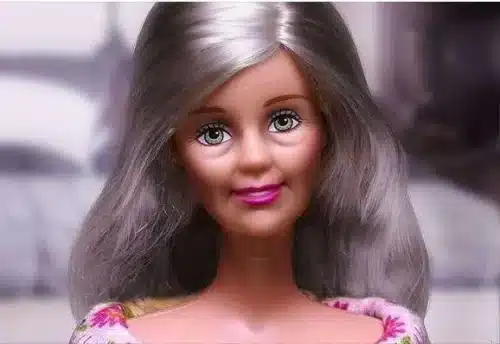 Alexa, water the plants.
~ Unknown
Aging in Place
Some time ago, when Twitter was still Twitter, a tweet from the company Kohler got me thinking: What do you think of Barbie's new eco-friendly dream home from Mattel? We love the low-flow toilet! Barbie's home has been through many changes over the years, from 1960's housewife to 1980s party palace, to 1990's extravagance, to early 2000s Vacation Glam, to 2010s Echo-friendly, and finally pet-friendly and wheelchair accessible in the 2020s. Barbie's Dream Home seems to reflect the cultural climate and era, especially for women.   
Barbie began trending green in the early 2010s after years of pink convertibles and endless wardrobes; not exactly a sustainable lifestyle (making up for past sins?). The joint effort was a synergy of The AIA and Mattel, who teamed up for the design competition in honor of "Architect Barbie," the newest, at the time, addition to the career-themed "I Can Be" series coming soon to a store near you.
Here is a synopsis of the Barbie's changing Dream House over the decades:
Evolution of The Dream House
I'm the youngest of three, I had two older sisters who, when they weren't dressing me up like a doll (I got even later); were preoccupied with Barbies. I have personal experience with The Dream House, by way of having to endure Barbie playtime with the neighborhood girls. That Dream House has changed over the years to mirror social and cultural transformations:
1960 — The Original Dream House Was marketed in 1960, and the commercial spurred young girls on with the fantasy of someday owning a home of their own. With furniture, a big closet filled with clothes, a fashion shop for shows, and a door that really opens.
1970—Barbie Dream House Is large, came in 3 sections with many doors, lots of burnt orange, and less pink.
1980 — Barbie Glamour House Pink is back, fully furnished, the Hearts are home and drinking wine! It boasted a winding staircase, and front porch swing—emphasis on glamour and furniture.
1990—Barbie has a phone and Lamborghini (pink of course), she saves Ken from drowning at the beach; "Anything is possible with Barbie" emphasis is on hair.
2010 — Barbie Glam Vacation House With balcony ladder, Flat screen TVs in "every room," a poodle and pool, as well as the pink convertibles.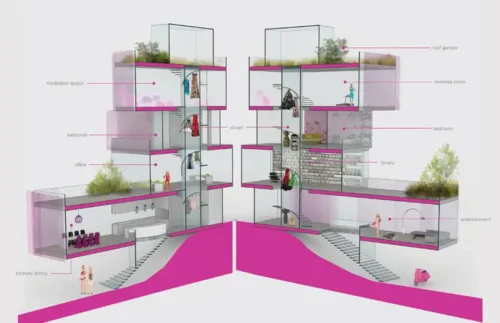 2011– Babie's Dream House — Was inspired by eco-friendly design. Decked out with solar panels, operable shading, and bamboo flooring, this dream house also comes with a low-flow toilet (which in real life could save about 4,000 gallons of water per year) and sink fixtures, all made from locally sourced materials. Eco Barbie also gets a 1,500-square-foot entertaining space and open chef's kitchen, a separate library and client-meeting room, a full-floor "inspiration room," a greenhouse on the roof, and a landscaped garden for her pets.
2020s- The Barbie Dream House has a pool, party room, pet-friendly, tech with mood-changing capabilities, lots of moving parts, and they do have a Wheelchair accessible elevator.
Barbie is Aging in Place
Mattel debuted the Dreamhouse in 1962, my sisters haven't played with Barbie dolls for over 60 years. Given these realities, it occurred to me that maybe Barbie should start looking into The Universal Design Dream House to accommodate her aging. Here are 5 places to start:
The Barbie Universal Design Dream Home
Adapt the main floor of the home for one-level living: No-step entry, bathroom and bedroom / Kitchen, and laundry on the main floor
Widen doorways to 36" w/ offset hinges on doors: Doorways are often too narrow for walkers and wheelchairs (or someone carrying packages, widening a plus for all)
Install hand-held shower heads and grab bars: These are some of the least expensive changes you can make; great help to those with balance issues
Use lever handles on doors and plumbing fixtures: Hand strength can be an issue with all ages–using a simple lever eliminates the struggle w/operating doorknobs/faucets
Use "comfort height" toilets: Many people suffer from osteoporosis, arthritis, or temporary injuries and find it hard to stand up from a normal height toilet–a higher toilet (or toilet chair that fits over the existing toilet) helps with this challenge.
Aging In Place Technology: Start with a low-tech option like motion-activated lighting that turns on when you walk past. Then add motion sensors that can monitor room activity for potential falls, automatically contact emergency help, and alert designated family members or friends. Ot If someone is more comfortable with wearables, there's the classic pendant with a push button as well as less stigmatizing versions that look like jewelry. Many smartwatches offer fall risk assessment and detection, monitor vital signs, and track specific health trends—many are equipped with an SOS feature. Other home sensors can learn a person's usual daily pattern, and monitor activity—like whether a kitchen cabinet or fridge is opened or how often someone uses the bathroom. Caregivers can be informed of data via an app or web portal. Further, there are well-known sensor suites, like Alexia, using artificial intelligence to detect changes in usual patterns. It would be good to include smart medication reminders and pill dispensers and don't forget safety and security systems like doorbell cameras as well as home security systems. Be sure to brighten up all the rooms in the home and outdoor walkways with motion sensor lights. Many of these devices can be controlled by a smartphone app, and are smart-speaker compatible, so they can be operated with voice commands. Smart fire, water, and CO2 detectors can not only alert the homeowner to danger but also contact a family member or first responders in an emergency. Smart door locks allow homeowners or caregivers to program access and monitor activity. Integrating a smart speaker home hub can operate lights, thermostats, and appliances via voice commands, which could be helpful for elders with vision issues. Adding smart plugs for around $25 each connects traditional lamps and small appliances to the hub.
OK, the convertible: I hear several manufacturers are designing new vehicles for aging baby boomers; you just must convince them you want it in PINK!
See
Summary of Architecture over the decades of Barie Dream homes
Author Women, Aging & Myths: 10 Steps to Loving Your Long Life