6 Ways to Brighten a Home for Aging Eyes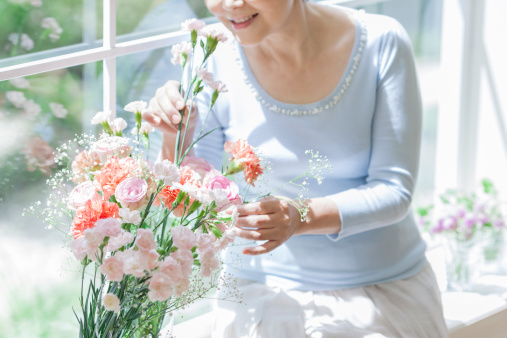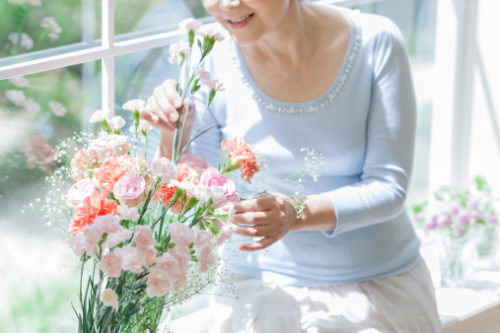 The main issue is the quality of light. Research shows that a 60-year-old needs twice as much light as a 30-year-old. 
~Paul Eusterbrock, President Holkötter International
Aging Eye Basics:
– reduced visual acuity (small details)
– reduced contrast sensitivity (differences between light/dark on surfaces)
– reduced color discrimination (more time to adapt to sudden brightness changes)
– increased sensitivity to glare (lenses of aging eyes develop opacities that are prone to scatter light, resulting in greater sensitivity to glare)
How can lighting help these aging eye problems?
Lighting expert Lisa Reed has some bright ideas to share…
Not This                                                  But This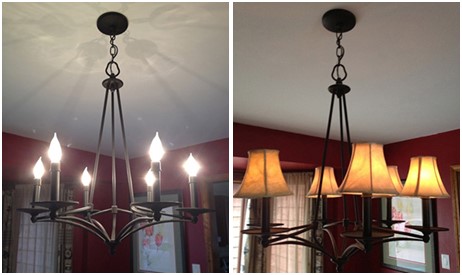 More Light
More light is the answer to most age-related vision problems, but instead of raising overall light levels by 500%, use task light to pump light levels where you need them for reading, grooming, hobbies, etc. Then increase ambient light levels a little. One easy way to do this is to replace existing lamps with more efficient sources. Replace incandescent lamps with a high-quality compact fluorescent or LED lamp to increase ambient light levels without increasing power consumption.
Uniform Light
Combat adaptation struggles by providing uniform light within a room and from room to room. Help eyes adjust to light level differences from room to room by providing smooth lighting transitions between rooms. Entering a lobby during the daytime can be a different experience than entering it at night. Use daylight and lighting controls to create smooth transitions from outdoors into your building lobby.
Glare-Free Light
Beware of glare. Floaters and other imperfections in the eye cause light scatter and naked light bulbs exacerbate this problem. It can be tempting to use sources without shielding to increase light levels but don't do it. Quality lighting is crucial for the health and well-being for people of all ages. For the elderly, quality lighting can help prevent falls, which is one of the biggest hazards for senior health. For more information on this topic, check out the work of The Center of Design for an Aging Society.
(Lisa J. Reed has been attracted to lighting (like a moth to a flame) for 20+ years. She is the Founding Principal at Envision Lighting Design, LLC in St. Louis, where she designs, teaches, and writes about architectural lighting. Connect with Lisa J. Reed on Google+.)
Thanks, Lisa, you make our world a little brighter…
Light Up Your Living Space
"Hello Darkness, My Old Friend"
Keep your home brightly lit…Think of uniformity of the light distribution.
Place night lights in your bedroom, bathroom, and hallways
Place a lamp within reach of your bed for middle-of-the-night needs
Make clear paths to light switches that aren't near room entrances
Consider trading traditional switches for glow-in-the-dark/illuminated switches
Turn on the lights before going up or down stairs/motion step-lights on stairs
Store flashlights in easy-to-find places in case of power outages
–Mayo Clinic
Order Here: I Think You'll Love This Product (affiliate link)
Bonus
Lighting the way the Key to Independence
Lighting Design Basics by BENYA Lighting Design