Age-Friendly Home 18 Features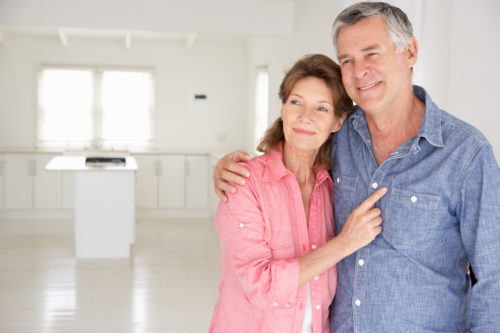 Howard and Sharon Johnson's Story
Once upon a time…the idea for Age-Friendly Innovators Inc began in the summer of 2012 when both of us were contemplating retirement and Howard his 70th birthday.  At that time, we lived in the lovely, bucolic Southern Oregon town of Jacksonville (population 3,000 and a few dozen deer) nestled in the Rogue River Valley. As we planned the future, we thought about our comfortable, two-story Victorian home overlooking the valley and realized that while we were both in good health at the time, our house could not be adapted to any major age-related changes that would require a wheelchair and/or a downstairs bathroom or bedroom.
We contacted a building contractor with knowledge about "accessible homes" and asked for his assessment of possible structural changes.  The recommendations were sobering.  The cost was prohibitive, and the changes would not add value to the home.  In addition, our home has a large and wonderful yard (several in fact) but requires a great deal of maintenance.  While we enjoyed our patio and yard area, the upkeep takes its toll, both physically and financially. That summer we thought more about these issues and explored what an "age-friendly" home might look like and where it could be located.  We wanted to stay in the Jacksonville area. We wanted a single-story home with the latest adaptive living technology and most importantly, we wanted to be part of a demographically diverse neighborhood. After a great deal of searching and thoughtful contemplation, we came to the conclusion what we wanted did not exist (at least not in the immediate area) and we would either have to move elsewhere or build our own "age-friendly" home.
We did a little research by having small-group dinner parties and exploring age-friendly living concepts with age peers. After five or six dinner party/focus groups we had a greater understanding of what was most important to the design of a home for our own future needs and interests. We used Sharon's gerontology experience and her passion for "healthy aging" in refining our design. For over ten years Sharon has written a weekly column that is published in two southern Oregon newspapers focused on the subject of healthy aging and its responsibilities –and possibilities.  As we came to better understand the needs of older adults and embrace the realization that millions of Americans are swelling the ranks of this demographic group, we recognized an opportunity to create a non-profit opportunity that could assist other aging adults and their families create solutions for a healthy and independent life. Age-Friendly Innovators Inc. was launched.
WE WILL CHANGE THE WAY YOU THINK ABOUT AGING
Aging Innovation
Vision
Communities that embrace and support healthy and independent living for older adults.
Mission
Promoting greater awareness of aging-in-place issues such as age-friendly homes, home safety, home assessments, and the development of creative and innovative solutions to enable seniors and older adults to lead healthy and independent lives in a home of their own.
 What is an "Age-Friendly" Home?
No-step entrances for easy access and egress; low maintenance yard
Doors throughout the home are at least 4 inches wider than a typical home
The front door has bench or surface area to place parcels
Rocker style light switches throughout the home in wall-contrasting colors and lower (42-48"off the floor); electric outlets are higher (18" or higher above floor) and no more than 10 feet apart in every room
Every room has three to four times the amount of light (ambient, accent, and task) found in an average home
Lights come on immediately when entering a room; automatic nighttime illumination from bed to the bathroom; bedside environmental controls
Easy-read and program thermostat
All doors, faucets are lever handles or hands-free
Easy-open windows throughout; lower to the floor windows
Wire-pull C-Ring or D-Ring handles on all cupboards and drawers
No-slip flooring throughout with the matte finish
Roll-in shower (master bath); outer-benched tub in guest/caregiver area
Grab-bars installed in the bathroom and tailored to homeowner preferences/needs (or reinforced walls for easy addition in the future)
Lower kitchen cabinets with easy roll-out shelves; drawers for dish access
Two-level counters and under-counter lighting; cupboards and drawers open out, down or out for ease of access
Elevated dishwasher (9 'from the floor); microwave on or below the countertop
Wall-mounted oven with side access; appliance controls with large contrasted words/numbers. Automatic shut-off timers for all appliances
Raised washer/dryer with adjustable height counter
Age-Friendly Start
The beginnings of Howard and Sharon Johnson's Age-Friendly Home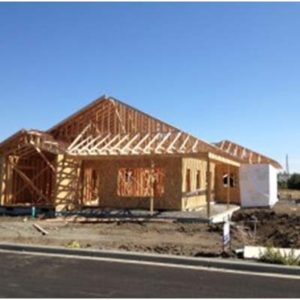 Bonus
Lifelong Housing Certificate: How does it Work?
Lifelong Housing Certification Checklist
Encourage the Creation of Accessible/Adaptable Housing In Your Community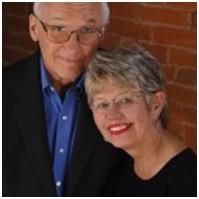 Contact: agefriendlyinnovators.org