Technology for Aging in Place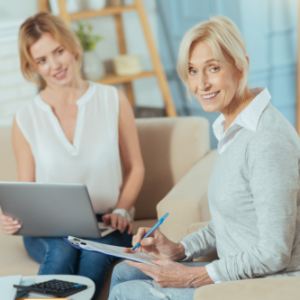 Technology for aging in place
Many caregivers feel like they need an extra set of eyes, ears, and hands to address the needs of their elder family members, and some turn to technology for help.

 ~AARP Family Caregiving Care at Home
Technology is quickly becoming a go-to-tool for keeping older adults safely in their homes. I want to share with you a brief summary of the trends and cultural forces shaping aging in place technologies. In addition, I've included product ideas that are making a difference in the lives of people just like you looking for solutions .
T.N.T. Aging in Place: A Quick Summary of  the 3 Mega-Trends Shaping Caregiving  
TRENDS: The Demographic Transition. On January 1, 2011, the first baby boomer turned 65 and 10,000/day will do the same until the year 2030. According to the United States Census Bureau, In 2050, the population aged 65 and over is projected to be 83.7 million, almost double its estimated population of 43.1 million in 2012.
NEEDS: Demand for "Independent" Living. According to AARP over 90% of older adults surveyed favor aging in place over institutional housing. No surprise here, given that most people desire to remain living "independently" at home.
TECHNOLOGY: Technology and tech-enabled services matter for older adults. The marketplace for technology to assist aging adults in the *Longevity Economy is expected to grow to more than $30 billion in the next few years, according to the updated report by Aging in Place Technology Watch. Families, caregivers, and seniors will acquire new tech-enabled services that improve the quality of their lives. The 100-million-strong 50+ market is increasingly aware of technology alternatives and providers know it.
~Laurie Orlov, Aging in Place Technology Watch
Emerging Cultural Forces
Millennial Care Giver Emerges- As Baby Boomers age out of the role of caregivers for aging parents and becomes care recipients, some 10 million Millennials are now taking on the role of caregivers (Digital Native Caregivers).
Healthcare Setting Shift- Healthcare is transitioning from the clinic setting into the home with the aid of emerging technologies tied to the internet. More and more care will occur in the living room and less in the exam room.
Fewer "Informal Caregivers" Available- Modernization Theory supports the idea that family structures have changed, and there are fewer family members able to care for an aging loved one/s full time. Longevity and living with Chronic conditions, support ratios (number of caregivers/number of care receivers), demographic mobility, and financial pressures have all combined to make caregiving more challenging.
Caregivers are now reporting increasing peace-of-mind because of smartphone aging-in-place technology. The ability to check in on mom while at work or on vacation, monitoring the temperature of her room, seeing which appliances are on/off, making sure the doors are locked, and even seeing who is at the front door, make these technologies priceless!
Best Buy's Assured Living is making a BIG Splash in the aging-in-place Technology market and worth looking into as a complimentary solution.
Bonus 
This book provides a step-by-step strategic plan for aging adults who want to add smart technologies to their homes!