Purpose Driven Design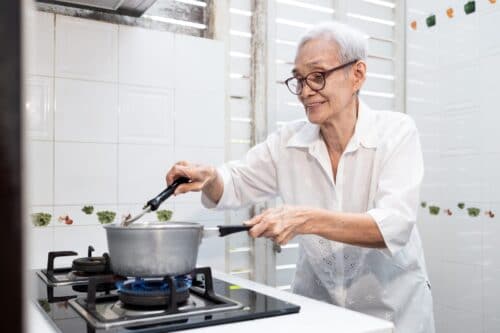 Good design is like a refrigerator—when it works, no one notices, but when it doesn't, it sure stinks.
~Irene Au
Aging in Place
Any Aging-in-place home strategy employing a systems approach must consider mindfully what kind of appliances will add not just convenience, but safety as well. And if you think aesthetics are a second thought—think again, appliances do not escape the Stigma test.
Form and Function are always the goal in accessible design. Because if it gives off a vibe of vulnerability the barrier to adoption will be steep. The goal of design should be to improve and enhance our lives at home. Think tools that synergize with the end-user (you) so your experience of aging is enriched.
 7 Form and Function Ideas
1) Dishwashers installed at 6 inches to 18 inches above the floor which makes loading and unloading a friendlier proposition for aging backs
2) Washer/Dryer side-by-side on raised pedestals and near sleeping quarters goes a long way to making laundry, well…less taxing (smile)
3) Microwaves at eye-level (seated position) can facilitate a wheelchair user to heat up and get going!
4) Cook top controls in front or side are safer, ones in the back of the stove are a disaster waiting to happen (noting worse than singed flesh!)
5) Speaking of singed body parts, ALWAYS have a fire extinguisher at the ready and know how to use it (don't bury under clutter)
6) Side-by-side refrigerators also allow not simply better access, but better visuals for that long-lost jar of horseradish (with the sell by date of 4 years ago)
7) Consider Purpose Driven Design in any or all appliances (design with a deeper purpose)
Bonus: Smart Technology Appliances
From appliances such as induction cooktops for those with vision issues to refrigerators that let users see inside without opening the door (and set digital alerts for food expiration dates and order groceries for delivery), smart home devices offer flexibility and freedom to older adults (https://healthtechmagazine.net/article/2021/01/whats-next-senior-tech-5-insights-thrive-center).
 ~Nathan Eddy
Aging in Place requires thoughtfulness in the everyday objects we use to live, as well as in the dwelling itself.
Choose wisely for your best life at home!
See
Good Design + Love Story = millealiving.com