On Aging: Realism Over Aspiration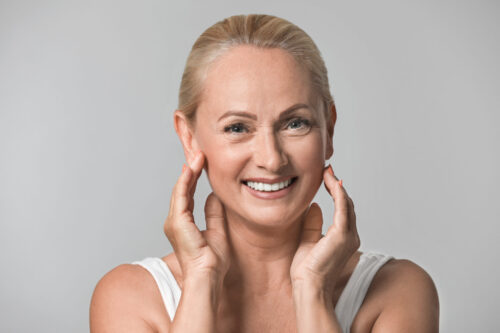 "Nature gives you the face you have at twenty; it is up to you to merit the face you have at fifty."
~ Coco Chanel.
Aging in Place
Vouge Business 1/31/22 ran an article by Maliha Shoaib, Prioritizing Realism Over Aspiration; Trinny Woodall on How to Market Beauty to an Older Consumer. I must confess Trinny Woodall wasn't a name I'm acquainted with until reading the piece. At 53 Trinny is a beauty who has harnessed her good looks, star power, and insights from aging, into the beauty brand Trinny London (TL) which in 2020 earned net annual revenues of 55 million Pounds.
Author Maliha Shoaib does a splendid job of dissecting and disseminating the TL success formula–which has a broad application for other entrepreneurs in the emerging business of aging. Let's unpack TL's success scaffolding starting with the line, " Prioritizing Realism Over Aspiration." This is not to be underestimated and is Trinny's unfair (counterintuitive) competitive advantage.
Getting REAL
The only time I can recall I saw this strategy employed successfully was about 10 years ago when Kaiser Permanente promoted a preventive care program for women to get mammograms titled; "DO YOU WANT TO BE AN OLD WOMAN?" The video ad showed various scenarios of women in old age enjoying life, the message was GET YOUR MAMMOGRAM so you can become an old woman–there is much more life to live! It was the very same messaging, Realism Over Aspiration. Magical thinking won't take you into advanced old age with health–you have to be proactive in self-care (Realism).
Making Realism a priority over Aspiration translates for older women into relatable and attainable, both in un-fetishized mature beauty and health; this is not ageless aging.  In a way, it respects older women's life experiences as a source of knowing and being in the world. It is a life-course perspective that honors where women are in their journey of aging-well within their age.
Dissecting A Success Formula for Marketing Aging/Beauty
The theoretical foundation on which Trinny London has achieved success and built a lucrative and sustainable business consists of (as I see it) the following 14 Essential Points:
Star Power and Beauty: Trinny Woodall is a former British TV Star, and she has earned her credibility in this space.
POINT- Being over 50 and having mature beauty certainly helps sell her brand.
Appeal to older women who feel underrepresented in the beauty industry.
POINT-Blue Oceans Strategy: Pursuit of differentiation and an uncontested market space (older women who feel underrepresented in the youth-obsessed world of the beauty industry)
"I wanted those women to feel there was somewhere where they felt their voice as heard."
POINT– Acknowledgement (Mattering Scale) to a demographic that is beginning to feel invisible. They don't wish to go gentle into that good night (thanks Dylan Thomas), yet don't want to be objectified as in earlier stages of womanhood either.
Inclusivity. Light skin, dark skin, "I could see myself in the brand."
POINT– "Othering" is dead. Be inclusive or die (good for society-good for business).
THE heart of the Trinny London offer is the online try-on and product recommendation tool, MATCH2ME. This allows the customer to build their own color profile.
POINT– Empowering. Agency. Self-efficacy. Self-customization. The unfair competitive advantage is embedded in the brand here! These women are of the age where they know what they want, what works, and what doesn't. Provide the tools and let them do the rest.
Trinny London seems to understand (unlike many other companies) this demographic is where THE MONEY IS!
 POINT– According to The Coca-Cola Company and Mass Mutual, a group of 40 million 50+ American women represents over $15 trillion dollars in purchasing power and are the healthiest, wealthiest, and most active generation in history (forbes.com).
TL Brand is anti-ageism. #ageism has grown to over 45 million views on TickTok (read that again).
POINT– Ageism is coming of age (good business) and finding its way into the hall of shame with other "isms."
Relatable product marketing. NO airbrushed models–real women.
POINT– Aesthetics matter, relatable = Purchasing "product as self."
The product must be renewed or purchased over and over.
POINT-Repeat purchases forever, a steady stream of revenue.
Natural ingredients / Natural Look Emphasis. This has an environmental consciousness appeal and is very on-trend.
POINT-Healthy Choices > Toxic Chemical = healthy me, healthy environment.
Build Community. You're not in it alone. The POWER of numbers, women are social beings.
POINT– Online community support is essential to creating social capital for TL customers. You're not just buying a product, you're building community.
Global Reach, wider appeal equates to wider profits and emerging markets.
POINT– Cosmopolitan appeal, we live in a global community.
Data collection to improve customer experience.
POINT– Employing collected data in the service of genuine customer needs can build trust if done with integrity.
Word-of-mouth converts friend networks into loyal customers.
POINT– This is gold, like going viral (enough said).
See
These 14 Points are applicable to many other endeavors in the marketing to The Longevity Economy in general, and to older women specifically.
Now get busy…
Blue Ocean Strategy (2005, dated yet still relevant)