On Aging: Adjusting Your Sails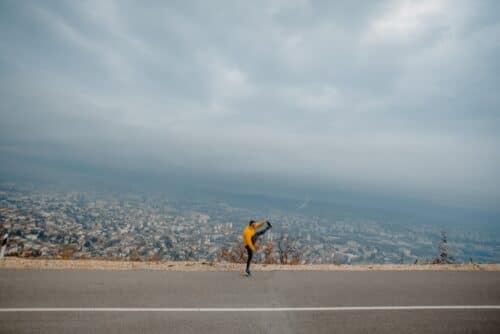 "It is not a failure to readjust my sails to fit the waters I find myself in."
~ Mackenzi Lee, The Lady's Guide to Petticoats and Piracy
Aging in Place
Mike Waters has been working in the fitness industry since before Velcro (a long time) and has experienced the evolution, not so much of the industry (it is still mired in performance and looks) but of his own development from a life-course perspective. Much of Mike's time with clients is invested in listening…Yes, no sit-ups, no killer abs, no feel the burn exclamations!!!! Simply being present for the other and letting life-review and their journeys in fitness over the years unfold organically. On the Mattering Scale this kind of 'witness to other' will do more to boost health and invoke the will to live than most any app invented—especially for this demographic.
For example, here is a 3-way conversation that occurred on the topic of MUSCLE LOSS WITH AGING:
BC (male): Nature has no use for us after the age of 40.
Mike: It's interesting but sad, there's a conflict in the field of aging biology on whether this is true. Therefore, I say to all the gerontologists I'm connected to that the "health and fitness" aspect is the new chapter in the gerontology books.
AH (female): I've heard this is true…but that physical activity, especially weight training, can counter it. Purpose could be the engine behind the fitness here, too. " In order to stay strong and live in your purpose, you need to maintain muscle so you can do that thing that improves your wellbeing and brings you joy."
Mike: Exactly! I love the purpose aspect because it's deeper.  More powerful. In adult ed it's called 'relevant.'  Meaning, for people to do more exercise for Health, it must have relevance. Relevance is a general term; Purpose is the emotional reason to do health.  
Mike shares many of these sessions with me because he knows this is doing "the good work" and his own maturing in "fitness" from performance to caring, is a natural progression and developmentally on time and worth sharing. He ALSO knows it takes time to get there, you cannot rush it, this is part of the aging paradox. The often-shallow world of "fitness" with emphasis on provocative surfacing and let's face it, much of it is driven by biology like salmon swimming upstream spawning, is also developmentally on time for that demographic. It has been said, the first part of life belongs to biology–the second part you are at choice. It is in this realm of choice, combined with lived experience, where the enchantment of aging well can be realized.
For older exercisers and guys/gals like Mike, the world of fitness takes on new meaning and purpose. He just finds the work more soul-satisfying at this stage. So many of Mike's conversations with clients are clinics in listening to life reviews, which so often are passages from grade school P.E. and young adult competitive performance to the final stages of staying active with age-related conditions and meaning-making.
Mike's Own Story on 3rdAge Exercise
I love it when theory meets real-life application and this email below from Mike, a boomer runner (old school long-term short-shorts and tube socks) is a perfect example. To unpack this a bit let me explain/decode this email conversation he shared with me. Mike is a longtime colleague who works with mainly boomers and seniors through an organization called Fitness Over 50. The email message he sent me has to do with running shoes, and many of these exchanges are discussions about the changing technology of gear over the years. In a nutshell, a boomer is describing his physiological changes related to aging and how he has compensated by adapting with new technology—in this case, shoes. It is a textbook case of the Selective Optimization with Compensation (SOC) Model of Aging in that Mike has not quit running due to physiological declines (skeletal/foot) but rather, he searched out gear that would compensate for age-related losses. This is a common topic he takes up with the older adults he works with. To put this in context, here is the SOC Model defined, followed by the email:
SOC Model Defined: Selective Optimization with Compensation
A process used in successful aging to adapt to biological and psychological deficits associated with aging. The process involves emphasizing and enhancing those capacities affected only minimally by aging (selective optimization) and developing new means of maintaining functioning in those areas that are significantly affected (compensation). [described by German psychologists Paul B. Baltes and Margret M. Baltes (1939–1999)]
(Source: dictionary.apa.org/selective-optimization-with-compensation)
Subject: RE: Hoka Bodi shoe report
Mike: What model did you get? Again, early on I would never have worn the Hokas.  I was a minimalist and loved "road feel."  But now everything has changed, and the cushioning is great.  Besides, I do 95% walking now.
Mike: The Hoka's are fantastic!  I knew when I tried them on in the store, they are the right ones. I Had a great run today–right away, No issue with metatarsals or heel. With the thicker forefoot cushioning I must pick my feet up some, but other than that they're great.
Just wanted to give you a report, Thanks Mike
Mike: The Bodi model fits like a glove. Now I feel like I could run (with 30-sec walk breaks) longer. With the Brooks addictions I had, my feet were hurting after 30 minutes. Hoka's marketing slogan is "shoes for the uncompromising body," They were designed for boomers whose bodies have changed. And from my feet up to my neck, it's all shifting.
Here, the message is clear, it is about a commitment to aging well and doing whatever it takes to continue that path. He's acknowledging the changes and seeking out solutions, which employs yet another Theory of Aging called "Self-efficacy."
Theory in practice and modeling the message, I love it!
See
"Anthropology of Human Movement"
(Don't panic, yes, the word "Elder" is used in this clinical research from 2009, and yes, "Successful Aging" is used in the 2018 paper as well)
Selective Optimization With Compensation: A Model for Elder Health Programming GROVE, LORI J. MS, RN; LOEB, SUSAN J. Ph.D., RN; PENROD, JANICE Ph.D., RN
The Baltes' model of successful aging and its considerations for Aging Life Care™ / geriatric care management