TECHY: Gillette TREO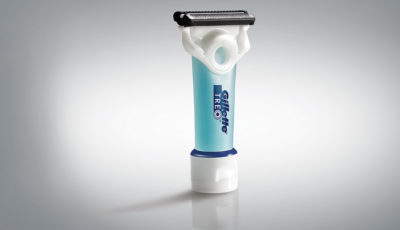 Notice the small things. The rewards are inversely proportional.
~ Liz Vassey
Aging in Place Technology
According to a recent report from MarketWatch titled Longevity is the Economic Opportunity of Our LIfetiime), the spending power of the 60+ consumer will reach $15 TRILLION by 2020. The so-called Silver Economy is now attracting the attention of Large Corporations who were reluctant to venture into the waters of Aging. But all that's changed…
For example, the Gillette company executives, whose founder King C. Gillette, forged the first disposable razor blades in 1900, have seen the light. In a very touching and very real (I know this is my lane) video of a boomer son caregiver shaving his father is captioned by this sentence:
There have been over 4,000 razors designed for shaving yourself. None have been specifically designed to shave someone else – until now.
Cleverly combining Form + Function + Emotion they nailed it with this simple technology. Company manager Sushant Trivedi in a TIME article (A Razor Built for Assisted Shaving) noted: "The art of shaving is more than just removing hair from your face—it's about dignity."
When maintaining elder's dignity becomes profitable, we have moved into a new era driven by a demographic transition too large to ignore. It's been said that if you poke any saint deep enough, you'll find self-interest—That aside, may their ranks grow…
See
Handel With Care / Gillette TREO
MarketWatch/https://www.marketwatch.com/story/longevity-is-the-economic-opportunity-of-our-lifetime-2017-02-16
(Image courtesy Gillette)