Breaking the Hemingway Code Aging in Place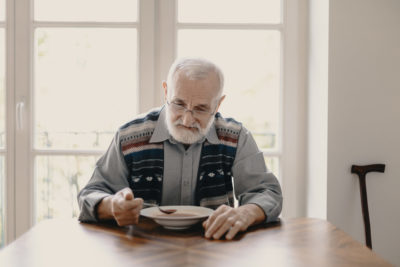 Every gift which is given, even though it be small, is in reality great, if it is given with affection.
~Pindar
 Aging in Place Alone
For years I heard of something called "the Hemingway code" (not to be confused with the *Hemingway Code Hero) supposedly named after the famed writer, Ernest Hemingway. The code says that if you do a good deed don't discuss it—that will dilute the act of kindness and place it in the realm of self-interest. Well, I'm going to violate the Hemingway Code to make a larger point.
I have an elderly neighbor, let's call him "George" who lives alone. He was a caregiver for his brother for many years until his passing some eight years ago. Further, his beloved cat passed way 2 years ago, and he still grieves for both. I visit George from time-to-time and when the weather is good, I engage him when he's outside. I informally look in on him to make sure he's OK. During the Holidays my heart goes out to him because I know he will be alone. George is an Old Navy man and many of his references are from that period in his life—his language does get salty occasionally and he loves to joke with me. He's cantankerous and even abrasive at times when he is ranting about something; which is most the time.
For the past week my intuition has told me to look in on him. During the winter months he is not outside much and goes to bed early. So today I acted on that intuition and was intent on spreading some cheer. I put jingle bells on my dog, wrapped up some chocolates/card and pulled out a string of Christmas lights—then knocked on his door. It took George a while to get to the door but suddenly he appeared with a toothless grin (sans dentures) peering through the thick glass of his front weather-worn door. After several more minutes wrestling with the door locks he finally let us in.
My dog jumped up on him with an irresistible greeting and he was genuinely happy to see us. I told him I wanted to put up some lights—he momentarily resisted then capitulated and help me find a spot with a close outlet and we watched as the blue and white lights lit up a dark room. We talked about his relatives as he strolled down the hallway pointing out pictures of all the deceased family members. In a mater-of-fact tone of voice he said his last living relative (of his generation) just passed last week.
The gift is to listen
He talked and did a life-review; old service pictures, the wife (now long gone) on vacation in a national park, kids with 1980's mullets and toothy grins. All his relatives were back East, as he is a native of New York and grew up in the Bronx. Longevity has caused him to experience social suicide as the last one standing. Wanting to lift the conversation, I talked about some problems with the DMV and getting a new license (I knew he'd love to rant about the state bureaucracy and that would get his juices going). The mood shifted to the present moment and we lingered a bit longer in conversation.
It was a pleasant visit and he always enjoys seeing my dog—he is an animal lover too. I turned to leave with one hand on the open door and another holding the taut dog leash, then he said: "Today is my Birthday; December 14th." I stopped, shook his hand and wished him a Happy Birthday!" Several hours later I returned with Sidewalk chalk and wrote: "HAPPY BIRTHDAY GEORGE!" on his front steps in multiple colors and secured a birthday balloon to the rail.
Intuition
That small voice (intuition) somehow knew George needed a visit and today was the day–his birthday. It might have gone unacknowledged, even in some small way. We all need to be acknowledged and celebrated—especially elders who may be going it alone on the Holidays. I urge you, if you're thinking about visiting and elderly neighbor during the Season just do it…Your small act is really what this Holiday Season is about. And yes, it's OK to break the Hemingway Code if it serves others in the telling.
Happy Holidays!
Patrick
See
Another Take: *The Hemingway Code Hero. The Hemingway man was a man's man. He was a man involved in a great deal of drinking. He was a man who moved from one love affair to another, who participated in wild game hunting, who enjoyed bullfights, who was involved in all the so-called manly activities which the typical American male did not participate in. ~Cliffnotes.com