Boomers Choose Assisted Bikes Over Assisted Living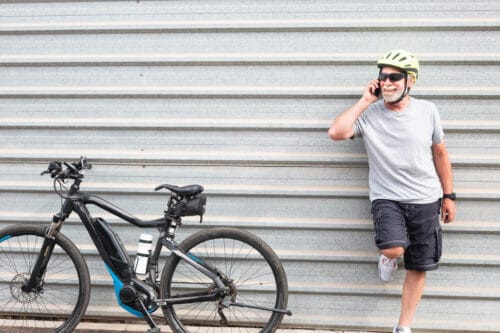 Every time I see an adult on a bicycle, I no longer despair for the future of the human race.
~H. G. Wells
Aging in Place
On my run this morning I encountered a fellow-baby boomer, he however, was on an ebike (electric) as we were navigating the same hill. I called out "That looks like more fun!" His response: "It's better on my knees."
That pithy reply was a marketer's goldmine…
During the duration of my run I kept thinking about my cohort's insightful messaging. Most boomers I knew as avid runners are no longer pounding the pavement in short shorts and tube shocks. In conversations with people I knew as daily runners/joggers 30 years ago, they are surprised to hear I am "still" running weekly. Aside from "the tyranny of still" which is a term pop-star gerontologist and geriatrician, Bill Thomas deplores (as do I), I am still running (slower of course) minus the tube shocks. Many of my running colleagues have traded in their Nikes for yoga mats or gardening tools because of the knees—and many are turning to biking generally–ebiking specifically.
Boomers biking is not new, but since the COVID-19 pandemic it has accelerated. With gyms closed, public transit as a risky proposition, social/personal distancing, people being cooped up, and its summertime, bike sales in the U.S. and Europe are skyrocketing.  For an example, in a recent article from the Chicago Tribune, Bicycle sales boom during coronavirus pandemic: 'They're buying bikes like toilet paper' reports:
 Bicycle sales over the past two months saw their biggest spike in the U.S. since the oil crisis of the 1970s, said Jay Townley, who analyzes cycling industry trends at Human Powered Solutions. But it is not just bikes, electric bikes called ebikes sales are soaring. According to the article; VanMoof, a Dutch e-bike maker, is seeing "unlimited demand" since the pandemic began, resulting in a 10-week order backlog for its commuter electric bikes, compared with typical one-day delivery time, said co-founder Taco Carlier. The company's sales surged 138% in the U.S. and rocketed 184% in Britain in the February-April period over last year, with big gains in other European countries. The company is scrambling to ramp up production as fast as it can, but it will take two to three months to meet the demand, Carlier said.
 TNT Formula for Successful Longevity Economy/COVID19 Business
A formula I have long employed in discussing the Longevity Economy, is "TNT" which stands for TRENDS, NEEDS, TECHNOLOGY. Ask yourself Where is the TREND? —Where is the NEED? —And Where is TECHNOLOGY headed? When overlaying this on the ebike global sales phenomenon, it is a perfect fit:
TREND: Aging Population (Boomers to Control 70% Of US Disposable Income)
GREEN (Bike vs Car)
Nostalgia (Biking represents Down-aging to a simpler time)
Family Experience (Can be done with grandkids, etc.)
NEED: COVID19 (Safety) Health (exercise)
TECHNOLOGY: Many boomers are choosing assisted biking over assisted living (eBike)
According to visa.com, baby boomers still outspend millennials and in 2020 there will be about 11 million more consumers over age 60. While the share of spending among younger consumers is expected to decline over the next 10 years, older boomers should gradually spend more with those aged 60+ reaching a 33 percent share of aggregate spending by 2025. Something to keep in mind when considering what businesses to get into, support, or invest in.
For now, ebikes are showing up more and more in my experience as a solid trend for the foreseeable future. Evelo, my favorite ebike company, reports a 2019 survey of more than 1,000 electric bike owners and consumers interested in purchasing an e-bike showed that 90.61 percent of respondents were 45-years-old or older. This is one of those unintended POSITVE consequences to come out a pandemic that is causing so much human suffering and death.
And oh yeah, about those knees…
Bonus from Jim Miller at Savvy Senior (Electric bikes are booming among baby boomers)
Class 1: "Pedal-assist" electric bikes that only aids when the rider is pedaling, and only up to 20 miles per hour. These are the most common type of electric bikes.
Class 2: "Throttle-assist" ebikes that let you use the electric motor without pedaling, like a motorcycle or scooter, but only up to 20 miles per hour.
Class 3: "Speed pedal-assist" ebikes, like Class 1, except that the motor will assist with bike speeds of up to 28 miles per hour.
See
State-to-State ebike laws
Chicago Tribune: https://www.chicagotribune.com/coronavirus/ct-nw-coronavirus-bicycle-shortage-20200614-4i65bg3nf5afbpmdpussmmdc34-story.html
Bill Thomas "Still"
Usa.visa.com https://usa.visa.com/partner-with-us/visa-consulting-analytics/baby-boomers-still-outspend-millennials.html
Boomers Want to Stay Home. Senior Housing Now Faces Budding Glut. Aging-in-place technology trend poses challenge to builders of living facilities for elderly
By Peter Grant (wsj.com)