Architectural Fix for Loneliness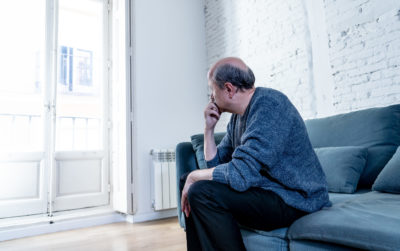 "One of the most important things you can do on this earth is to let people know they are not alone."
~ Shannon L. Alder
*NOTE DATE: Article was written PRE-COVIS-19 Era (hopefully it will be relevant again soon–perhaps after a vaccine? Let's hope so!)
Aging in Place
There is a robust discussion going on in the culture concerning the epidemic of loneliness and studies show the issue is only getting worse in our society.
For the elderly social isolation leading to loneliness can be a factor in an array of health problems. According to an article from the National Institute on Aging (NIA) this may include higher risks for physical and mental conditions like high blood pressure, heart disease, obesity, a weakened immune system, anxiety, depression, cognitive decline, Alzheimer's disease, and even death.
Biology of Loneliness
Further, the same NIA article reports research from Steve Cole, Ph.D., director of the Social Genomics Core Laboratory at the University of California, Los Angeles, that posits losing a sense of connection and community changes a person's perception of the world. Someone experiencing chronic loneliness feels threatened and mistrustful of others, which activates a biological defense mechanism. Dr. Cole's NIA-funded research focuses on understanding the physiological pathways of loneliness and seeks psychological/social ways to resolve it (for more see the NIA article).
Let's Talk More
In the UK there is a movement afoot called the Campaign to End Loneliness, Connections in Older Age. The idea is simple, small moments of connection, like saying hello on the bus, or smiling at another person on the street can make a difference in someone feeling lonely. It's reported that in the UK nine million people are lonely and it's on the rise. That's the bad news, the good news is that over 200 million people have engaged the campaign so far. The mantra is "Conversation and connection are good for us."
Simple Architectural Solutions: "A Friendly Bench"
To call a work of architecture or design beautiful is to recognize it as a rendition of values critical to our flourishing, a transubstantiation of our individual ideals in a material medium (The Architecture of Happiness by Alain de Botton, 2006 p. 100).
Much to my delight I recently ran across a story about a very simple architectural solution to help end loneliness—again in the UK. The concept is called "The Friendly Bench™" and it's a movement to tackle loneliness, social isolation and community disconnectedness, using innovative outdoor social spaces that reconnect people back to their own community.
Features:
Specialty Design (DDA) Outdoor Social Spaces
Active Social Hubs
Community-led
Goal to Reduce Isolation/Loneliness
Themes:
Connect People to each other
Connect People to places
Connect People to nature
The UK is taking this epidemic of Loneliness seriously and implementing widely applicable solutions to end a social ill. In America we have been sold on the narrative of the rugged individual "pulling themselves up from their bootstraps" and going it alone–and the word "socialism" has become a political weapon. Again, I'll repeat my favorite line from the rock group The Eagles: Every form of refuge has its price. We would do well to emulate our UK counterparts and cross-pollinate some ideas. Social good is a team sport!
See
EMAIL: [email protected]