Aging in Place: ENTER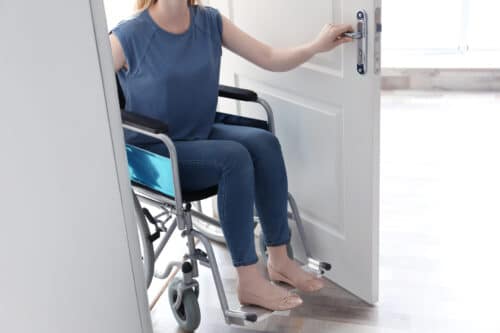 I have a thing for doors. I always think of them as a threshold to something new.
~Jada Pinkett Smith
Aging in Place
There is nothing more fundamental to a home than the front door entryway. That is how we begin and end so many of our life experiences.
Here are 8 Elements to consider for the ideal aging-in-place home entry
Always have a first choice accessible (path of least resistance) and easy way out/into the home. Here the key concept is what if there is an emergency? Safety first always.
Peephole Camera like the Ring Video Doorbell 2 with HD Video, Motion Activated Alerts / or 2 low tech peeps holes, one at 30" below the other to facilitate a person standing for in a wheelchair.
Provide a bench to sit on the porch.
Have the porch be covered to protect the entryway from the elements.
Avoid mats, use only if anchored securely.
Bright motion sensor lighting on both sides of the door.
Install illuminated doorbell that is easy to see.
Keep in mind the entry of the home makes a statement about the inhabitants, make it aesthetically pleasing/welcoming and try to avoid having guests with limited mobility having to use a separate entry/exit—that can be stigmatizing and may affect the mood and experience of your guests.
With the COVID-19 Vaccination programs now in full swing, people are once again entertaining long awaited visits to friends and loved ones. This equates to many happy reunions (hugs) at front doors across the land–Let's be prepared.
See
Cities are for everyone – Creating a barrier-free world