Laurie's 6 CES Tech Picks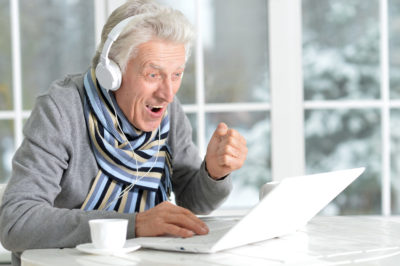 Not all problems have a technological answer, but when they do, that is the more lasting solution.
~Andy Grove
Aging in Place
The Consumers Electronics Show (CES) held in Las Vegas each year in January features the latest technological innovations coming to a marketplace near you. The show is attended by the usual suspects in home technology, names like LG, Samsung, and Kohler can be found introducing enticing gadgets for your dwellings.
Everything from the truly useful for aging-in-place purposes like smart security systems, smart smoke detectors, smart doorbells, from companies such as ADT, SimpliSafe, and Vivint—to the superfluous Proctor and Gamble's Charmin "Rollbot" which will deliver TP to you when your stranded on the toilet. This item of course grabbed all the headlines—how we ever lived without it I'll never know!
Aging in Place Technology
My colleague and friend, Laurie Orlov attends each year and does the heavy lifting for you. She scours the floors and does inquiries about the new, the innovative, and relevant technology offerings related to aging in place and older adults. This year she has reported on 6 new technologies worth looking into. I reproduce her insights here in brief to consider. I encourage you to visit her website for more detailed coverage (see bottom of page).
Laurie's 6 Smart Home Technologies for Aging in Place Consideration
Sensors Placed around the home which monitor loved ones and notify you via phone app of their activities from sleep patterns, eating, activities, or falls. Early detection, notification and timely intervention is the goal = Peace of Mind.
Forma SafeHome
Smart Home Technology which provides real-time notifications and alerts concerning safety and health of loved ones aging in place.
A Predictive Platform tracking info like activity scores, geofences, movement patterns, all via a private customized view. Gathers data, analyzes, and triages messages according to level of urgency/need and sends smart-alerts accordingly.
Employing infrared and ultra-wide band radar, this systems non-invasively monitor health, activity levels, medications, and voice-analyzed cognitive data to give caregivers an idea of how the loved one is doing. The idea is to pro-actively collect data using AI and machine learning to analyze and intervene when necessary.
Detects falls and can call for help, but also monitors activity, sleep and breathing patterns. Trends are detected and displayed which can then be preemptively acted on.
Vital Care Connect
A digital platform which monitors vital signs, medications/reminders, ADLs, and fall alerts. Realtime and historical data can be gathered and analyzed for optimal outcomes.
These six technologies for aging in place fall under the general category of predictive analytic applications. The emphasis is on collecting data in the home setting with which to plan and intervene care as needed for an optimal aging in place experience.
See
Aging in Place Technology Watch