For the LOVE of Aging in Place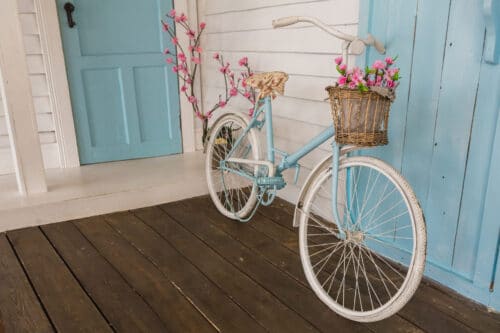 "Marriage is a wonderful institution…but who wants to live in an institution?"
-Groucho Marx
Valentine's Day
Valentine's Day traces its origins to an annual Roman pagan celebration, called Lupercalia, which was held yearly on February 15. Seems the lovers' holiday has its roots in raucous annual Roman festivals where men stripped naked, grabbed goat- or dog-skin whips, and spanked young maidens in hopes of increasing their fertility, says classics professor Noel Lenski of the University of Colorado at Boulder.
The Celebration was disapproved of by the Roman Catholic Church and thus linked the festival to the legend of St. Valentine. Even so, the Holiday's popularity persisted into the fifth century A.D; at least 150 years after Constantine made Christianity the official religion of the Roman Empire.
In the third century A.D., Roman Emperor Claudius II, seeking to bolster his army, forbade young men to marry. Valentine, according to legend, defied the ban and performed clandestine marriages. Valentine was executed in A.D. 270 – on February 14.
The first known Valentine's Day card was sent in 1415 from France's Duke of Orleans to his wife when he was a prisoner in the Tower of London following the Battle of Agincourt.
The tradition of hand-written Valentines gained popularity in the U.S. during the Revolutionary War. Mass production soon began in the early 1900s; and Hallmark started selling the cards 1913.
Attention Men
The Holiday gears much of its commercial focus on men: In the U.S. males will spend nearly twice as much on the holiday as U.S. females. According to the website credit.com, in 2021, 32.9 million Americans — or 12.89% of the adult population — plan to buy a Valentine's Day gift for more than one romantic partner, according to a recent survey from finder.com. That is a drop of more than half when compared to 2020's 26.77% of adults who planned to buy a gift for more than one romantic partner last year. As mentioned, men are more likely than women to shop for more than one partner, with 20.07% of men saying they will purchase a Valentine's Day gift for more than one romantic partner, compared to only 6.36% of women.
Further, cnbc.com reports: Shoppers purchasing gifts for Valentine's Day expect to spend $163 on their significant other this year, a recent study from retailmenot.com. This anticipated spend is nearly double from last year's holiday, when shoppers had planned to spend $85. Despite the tough economic challenges amid the pandemic, spending on our sweethearts this Valentine's Day is up. And in fact, it may just be the pandemic that is affording people to splurge more than they did in years prior. "I suspect people are spending almost double this year because they aren't traveling as much, going to concerts, dining out, etc., so they have additional resources and are choosing to spend money on other things, in this case Valentine's Day gifts for others they appreciate," Sara Skirboll, RetailMeNot's shopping & trends expert. RetailMeNot's study also revealed how shoppers' relationship statuses play into their willingness to spend. Engaged couples reported planning to spend $243, while newlyweds earmarked $317 for their partner and partners married for over 10 years allocated $467.
Top 5 Valentine's Day Facts for 2021:
$21.8 Billion: Total Valentine's Day spending projected for 2021 ($164.76 per person celebrating).
$231 vs. $101: Men will spend more than twice as much as women, on average, for Valentine's Day 2021.
$8.1 Billion: Amount Americans will spend on jewelry ($4.1B), flowers ($2B) and candy ($2B).
1 in 6: Marriages begins online.
33%: Overall online dating activity increase across the US between February 1 and February 14.
~wallethub.com
Given these billions of dollars and all the effort and energy expended to say "I love you," is there something we as boomer men can do that is more lasting than say a box of (high calorie) chocolates (chocolate has been linked to romance at least since Mexico's 15th- and 16th-century Aztec Empire)?
Aging in Place is a Women's Issue
Women in most developed countries still outlive men by 5 to 9 years; although men do get old—women get older. For that reason aging in place is an important issue to the women in our lives.
Fact: Widowhood is more common among older women than older men. In the United States, about 700,000 to a million women are widowed each year. Approximately 75 percent of widows are 55 or older; and widows account for 53 percent of women 75 to 84, according to U.S. Census data.
Women tend to spend their savings on their husbands' care, and then live alone for 15 to 20 years with far fewer resources. Medicare pays only about half of older people's health costs; the term for this is "spend down." The time to give the gift of aging in place independence is before this happens—while you're both home to enjoy the benefits of being home by choice—together.
A Valentine's Legacy of Independence
It may not seem romantic but loving your spouse means being there for her now and in the future by leaving a legacy of independence. The thought of her losing the safety and comfort of home is unpleasant at best…This year skip the chocolates and flowers; instead make an appointment with a CAPS trained remodeler for a home assessment.
Then make dinner for her and after take her by the hand look lovingly into her eyes tell her your expression of love this year will be different—lasting…Turn down the lights (using the rocker switches you just installed), light the candles and describe your future together in an accessible home with beautiful Universal Design features. After all, as Groucho says: "Marriage is a wonderful institution…but who wants to live in an institution?"
She'll love you for it…
See
And I Love Her (1964)
aginginplace.com A Resource