TECHY: The Power of PeerCare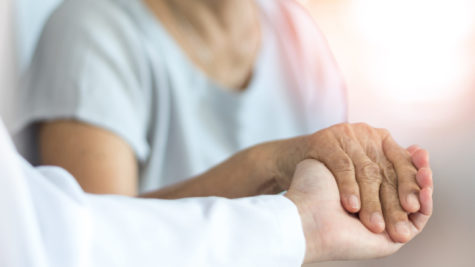 Harness the Power of Peers.
~Larry Harvey
Aging in Place
I'm fond of saying to those in the Gerontology sector: If you want a BIG Opportunity, find a BIG Problem…And aging in place is potentially both. Most will agree and go about their business…Claude Goodman is different—he's thinking outside the box for systems solutions to problems plaguing the aging experience and has been doing so for many years.
I encourage you to first, get some insight into Claude the Gerontologist and his pedigree of education and experience by reading his abbreviated Biography: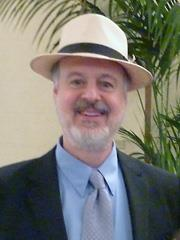 Founder & President of CareWheels, is a Columbia University educated Biomedical Engineer, Gerontechnologist and Inventor with seven patents in the field of biomedical engineering, and decades of experience in health-sciences related research, development and technology transfer as a guest scientist at the University of California, Lawrence Berkeley National Laboratory and the National Institute of Standards and Technology. He served as a founding member of CAST, the LeadingAge Center for Aging Services Technologies and as a founding Consortium Council Member of the Oregon Center for Aging Technology. He founded CareWheels in 2001 as an Oregon §501(c)(3) non-profit corporation, with grant funding from the Intel Research Council, to explore new technologies designed to strengthen the Social Determinants of Health. CareWheels established the Living Lab Method of in-home Participatory Design Research to develop social care network technologies that support elder empowerment within the home and interdependent living in the community. This research revealed the transformative power of Peer-Care: we take better care of ourselves when we take good care of each other.
Thanks to the generosity of Social Venture Partners – Portland and their Encore Fellow Engineers for the CareBank Development, the Consumer Technology Association Foundation for funding the Pilot Project and the Pilot Participants for engaging with me in the CareBank Project.
The Report
Secondly, I will whet your appetite and arouse your curiosity for his innovative approach to solving societal challenges around aging and technology by posting an excerpt of his Report (Read and download the entire paper if your interest is peaked):
CareBank: The Power of PeerCare in the Palms of Our Hands!
Today, almost half of all American women 75 and older are living alone, afraid that something may happen and no one will know. Loneliness is a key predictor of a cascading range of co-morbidities, including: cognitive decline, depression, substance abuse and suicide. Medication nonadherence has been associated with 125,000 deaths, 10% of hospitalizations, and excess costs of $289 Billion annually. 1 PeerCare tools, empowered by innovative Internet of Things (IoT) technologies, may synergistically solve medication adherence, loneliness and social isolation problems while closing growing gaps in unfulfilled eldercare services.
Peer-to-Peer Care
One resource we have that can scale-up to help fill this eldercare workforce gap is elders themselves. CareWheels' CareBank empowers people with technology to participate in the Care Sharing Economy. The CareBank Platform integrates TeleCare IoT sensors with a TimeBank, using Behavioral Economic Principles to reward people for exchanging PeerCare services, like medication and safety monitoring, from the comfort of their homes. CareWheels is piloting the CareBank to demonstrate how we may serve our growing population of aging Americans with trustworthy, tech-empowered PeerCare that strengthens social connections and improves medication adherence, helping us save lives and money.
CareBank Pilot Project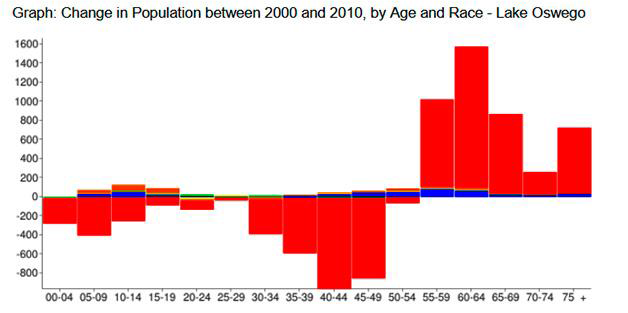 Lake Oswego, Oregon is Ground-Zero for disruptive U.S. Aging Demographics. This graph2 shows how the population age distribution has changed between 2000 and 2010 using Census data. Observe that the only population segments showing significant growth are those aged 55 to 75+ while children and Generation X segments are in decline.
Lake Oswego demographic trends resemble those of Japan – the world's oldest nation and a harbinger of America's aging future – making this an ideal place to develop and test the CareBank. A distressing New York Times article3 describes the "4,000 lonely deaths a week of the world's most rapidly aging society" in which Japanese elders "died without anyone knowing, only to be discovered after their neighbors caught the smell." Is this a fate that awaits 14 million older Americans who are living alone?
Welcome to Greenridge Townhomes
Greenridge is a Naturally Occurring Retirement Community (NORC) in Lake Oswego, Oregon. Established in 1970, many of Greenridge's original homeowners still live there though their families have grown up and moved away. Neighbors have grown older together and the time has come when they ask themselves, or their adult children ask them, whether to stay or move away.
Art is one of Greenridge's first residents and an active member of the Lake Oswego Adult Community Center, where he facilitates the Technology and Learning Special Interest Group meetings. Last autumn, Art invited me to the Adult Community Center to present the CareBank Project. He then helped recruit a group of widowed Greenridge residents, ages 80 to 94, to participate in a three-month CareBank Pilot.
Now in its tenth month of operation, the Greenridge CareBank Group provides mutual monitoring and first response services to support their shared desire to help each other live safely in their own homes. Should something happen to any member while alone at home, their PeerCare Group will be the first to know and respond. The Greenridge CareBank Pilot demonstrates how these elders are using technology to help take care of themselves and each other, so that they may all live safely at home and prevent the ultimate indignity of a lonely death.
Greenridge NORC Elders run the CareBank App on a variety of personal computing devices including: Apple iOS and Android smartphones, tablets, and Windows laptop computers. CareBank Pilot surveys have revealed elders' higher levels of personal engagement when using hand-held computing devices, reinforcing the notion that the CareBank App puts the power of PeerCare in the palms of our hands.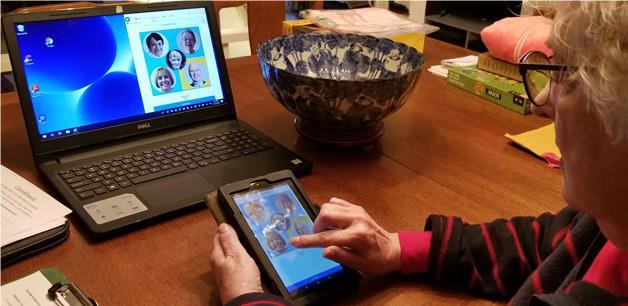 CareBank CC 2019 by Claude A. Goodman 2 Creative Commons Attribution-ShareAlike 4.0 International License
CareBank Pilot Participant Testimonials
It's like an Advanced Directive – you want to get this set-up before you need it.
You don't want to wait for a crisis to implement something that will help you stay safe at home.
It feels like someone's looking out for you. Yeah! Someone cares. So, you have to keep up your routine to let them know that you're okay.
I think it's very beneficial because what goes around comes around. If I'm going to be a good, helpful monitor, someone will do the same for me.
That's what life's all about – The Golden Rule: Do unto others as you'd have them do unto you.
I would definitely recommend it. It's a brilliant idea!
The CareWheels PeerCare Idea
Dr. Bill Thomas, geriatrician and founder of The Green House Project, wrote: "The best new ideas, the ones with the most potential to disrupt and transform the experience of care and caregiving are also the most likely to be rejected out of hand. Capable people with strong credentials and deep expertise in a field are often the quickest to dismiss the ideas that have the greatest potential to change everything."
The PeerCare idea began when a group of engineers and scientists from CareWheels, Intel, Kaiser Permanente Center for Health Research, Oregon Graduate Institute and Oregon Health & Science University interviewed stakeholders from aging service organizations, including Kaiser Permanente Expanded Care Managers and Home Health Worker Staff. When we asked about their use of technology, they told us about their experiences using a Personal Emergency Response System (PERS), best known for the hysterical television ads in which an elderly woman yells: "HELP! I've fallen and I can't get up!"
The Care Managers explained that these familiar PERS Buttons did not work about a third of the time. When our engineers asserted that they could build a much more reliable button, the Care Manager explained that the buttons work only when they are pushed – and gave three reasons why that often failed to happen: (1) incapacitation, (2) not wearing the button because of its stigma, and (3) falling but failing to push the button for fear that would result in having to move from home to institutional care.
The problem with PERS persists today, as recounted by MIT AgeLab Director Joe Coughlin5: "When [PERS] subscribers fell and remained on the floor for longer than five minutes, they failed to use their devices to summon help eighty-three per cent of the time. In other words, many older people would sooner thrash on the floor in distress than press a button—one that may summon assistance but whose real impact is to admit, I am old."
Our idea was to replace the PERS Help Button with a computer and smart home sensors that would track normal daily activities and generate alerts automatically if anomalies were detected. CareWheels participatory design research participants discovered that, in addition to personally benefitting from their sensor information, they could help each other live more independently by monitoring and responding to each other's alerts. This new method of tech-empowered PeerCare revealed the transformative potential of interdependent care, confirming the social science research findings that people in peer support groups take better care of themselves when they take good care of each other.
The CareBank Solution / Peer Based Not Fear Based  
The CareBank is a cloud-based Care Sharing Economy Platform integrating TeleCare IoT Sensors with a Virtual TimeBank and Behavioral Economic Incentives into an easy to use Mobile App that puts the power of PeerCare in the palms of our hands. PeerCare connects elders to transform individual frailties into collective strengths. The CareBank is designed to empower people with technology that provides innovative tools to improve medication adherence and life-affirming behaviors by engaging elders in PeerCare to strengthen social connections, promote healthy behaviors and support their wellbeing. (To Read the Rest of the Report Click the Link): CareBank: The Power of PeerCare in the Palms of Our Hands!
See  
Contact Claude Goodman: [email protected]