2021 Aging and Longevity DOERS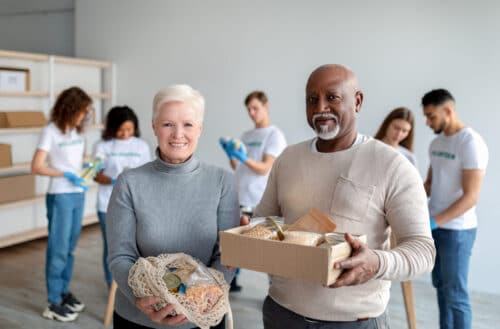 THE STAR THROWER STORY BY JOEL BARKER
Inspired by the writing of Loren Eiseley
There's a story I would like to share with you. It was inspired by the writing of Loren Eiseley. Eiseley was a very special person because he combined the best of two cultures. He was a scientist and a poet. And from those two perspectives, he wrote insightfully and beautifully about the world and our role in it.
Once upon a time, there was a wise man, much like Eiseley himself, who used to go to the ocean to do his writing. He had a habit of walking on the beach before he began his work. One day he was walking along the shore. As he looked down the beach, he saw a human figure moving
like a dancer. He smiled to himself to think of someone who would dance to the day. So he began to walk faster to catch up. As he got closer, he saw that it was a young man and the young man wasn't dancing, but instead, he was reaching down to the shore, picking up something and very gently throwing it into the ocean.
As he got closer, he called out, "Good morning! What are you doing?" The young man paused, looked up, and replied, "Throwing starfish into the ocean." "I guess I should have asked, "Why are you throwing starfish into the ocean?" "The sun is up and the tide is going out. And if I don't throw them in they'll die.
"But young man, don't you realize that there are miles and miles of beach and starfish all along with it. You can't possibly make a difference!"
The young man listened politely. Then bent down, picked up another starfish, and threw it into the sea, past the breaking waves. "It made a difference for that one!"
His response surprised the man. He was upset. He didn't know how to reply. So instead, he turned away and walked back to the cottage to begin his writings.
All-day long as he wrote, the image of the young man haunted him. He tried to ignore it, but the vision persisted Finally, late in the afternoon he realized that he the scientist, the poet, had missed out on the essential nature of the young man's actions. Because he realized that what the
young man was doing was choosing not to be an observer in the universe and watch it pass by. But was choosing to be an actor in the universe and make a difference. He was embarrassed.
That night he went to bed troubled. When the morning came he awoke knowing that he had to do something. So he got up, put on his clothes, went to the beach and found the young man. And with him, he spent the rest of the morning throwing starfish into the ocean.
You see, what that young man's actions represent is something that is special in each and every one of us. We have all been gifted with the ability to make a difference. And if we can, like that young man, become aware of that gift, we gain through the strength of our vision the power to shape the future.
Source: https://starthrower.com/pages/the-star-thrower-story
Aging in Place
At the end of each year, I like to compile a list of folks who are quietly doing the good work of making others' lives richer as they age. These are individuals who lay hands on others, invest time, teach, and give of themselves without fanfare. They may not show up on high profile lists on social media however they are making a difference one human being at a time. These unsung heroes day in and day out give so that others can live their best lives. My only regret is I will certainly leave out countless others who deserve recognition.
1) Cathy Lieblich, Director of Network Relations Pioneer Network
Vision Statement: A Culture of Aging that is Life-Affirming, Satisfying, Humane, and Meaningful
Pioneer Network supports models where elders live in open, diverse, caring communities. In-depth change in systems requires a change in governmental policy and regulation; change in the individual's and society's attitudes toward aging and elders; change in elders' attitudes towards themselves and their aging; and change in the attitudes and behavior of caregivers toward those for whom they care. We refer to this work as culture change. Our aim is nothing less than transforming the culture of aging in America.
Website: pioneernetwork.net
2) NATE WILKINS, Ageless Workout
Vision Statement: Being ageless is a mindset. It's a lifestyle.
Nate's mission is to make wellness and a healing journey achievable and accessible for all. Life takes balance, and he makes this the cornerstone of his work. This guy gets it…Nate knows that health is the key to successful aging—he sets an example by aging well within his age.
Website: agelessworkout.com
3) Dannelle LeBlanc, CareGiver Transitions
Vision Statement: CareGiver Transitions' mission is to help family caregivers connect with purposeful resources, information, and community to sustain wellbeing throughout caregiving.
~ Meaningful learning programs for individual family caregivers, businesses, support organizations, and others.
~ Care planning and transitional support
~ Practical tools, resources, and referrals
Dannelle LeBlanc is a Certified Senior Advisor and Caregiving Consultant. She merges her experience as a caregiver for her father-in-law with 20+ years in educational training and patient support services related to aging and chronic illness.
Website: caregivertransitions.com
4) Jan Norby, RN BSN Geriatric Care Manager
Vision Statement: Enhancing Life. Excelling in Care.
Providing nursing care management allows me to provide patient-centered and comprehensive continuity of care. By developing relationships with patients and families that center on trust, advocacy, education, and communication, my patients receive exceptional healthcare and their families receive peace of mind related to their healthcare needs.
Website: geriatrichealthcaremanagement.com
5) Lucinda Koza is the founder and CEO of I-Ally
Vision Statement: I created I-Ally from a place of great, deep need — not only my own need but an enormous need I felt and heard from those like me. There are millions of us, Millennials who are now 40% more likely to be taking care of an aging parent; Millennials who now comprise over 1/3 of multi-generational family caregivers. We don't relate to the traditional messaging that is geared towards caregivers. We are different. We are younger, more diverse, and most likely provide the bulk of care all by ourselves. We need a new system.
A community-driven app that saves millennial family caregivers time, reduces stress and enables informed decision-making by providing services that fulfill their unique needs.
Website: i-ally.com
6) Ruth Devlin – Talk Menopause
Vision Statement: She is passionate about providing women and employers with evidence-based information and support, helping women to make informed decisions about how to manage their menopause and so improve their quality of life.
RN, bonkers about health and wellbeing specializing in menopause. Speaker, Author of Men…Let's Talk Menopause. Love family, friends, dogs, tea & gin!
Website: letstalkmenopause.co.uk
7) Rachel Hiles, Certified Caregiving Consultant
I share my personal experience and perspective as a family caregiver and present on the young caregiving experience and real-life strategies for caregiving.
Vision Statement: Help others know it's possible to support their relative who needs the care to stay at home, Show primary family caregivers that they are not alone, Underline the moral imperative for caregiving, Reinforce the right to age in place and integrated supports, Educate people on the reality of nursing homes, Provide practical tips on and highlight resources for caregiving, Emphasize the importance of respite to prevent caregiver burnout, Share advice and comfort for stressful situations, and Give you an inside look into the realities of caregiving and aging.
I am a 30-something aspiring local celebrity do-gooder in Kansas City, MO. I have been the primary caregiver for my grandmother since 2015. I am also a former caregiver to my close friend Calvin, an adult with developmental disabilities. I am a Certified Caregiving Consultant through The Care Years Academy. I have been using the knowledge and experiences I gained over my twelve-year career in the disability world to help my grandma have a good life and age in place.
Who is this blog for?
Adult millennial grandchildren caring for grandparents, parents, or other aging loved ones
Families who can't afford institutional long-term care in a nursing home or assisted living Other caregivers and support providers Anyone else who wants to know what it's like to be the primary caregiver to an aging relative
Website: takingcareofgrandma.com
8) Barbara Ivey, Certified Dementia Practitioner & Alzheimer's Kid
Vision Statement: We're on a mission to reveal the experience of Alzheimer's care in a way that makes it easy and urgent for family and friends to respond with support.
What to expect when Mom has Alzheimer's
If you have a parent diagnosed with Alzheimer's, what to expect when Mom has Alzheimer's is the course you need now and in the future. What to expect when Mom has Alzheimer's prepares you for the years ahead. I created it because it's exactly what I needed when my Mom …
Her Udemy Course, "What to expect when Mom has Alzheimer's: A beginner's guide" launched on Udemy.com in Fall 2020.
Website: theperfectthing.info
9) Mary Ann Drummond, RN, CEO, Angel Tree Publishing
Vision Statement: Angel Tree Publishing provides uplifting educational materials and resources to Alzheimer caregivers of all types, ranging from family members to trained professionals.
Mary Ann Drummond has over thirty years of nursing experience and has spent the last thirteen years of her career as an executive, working in the assisted living industry. With responsibility for Alzheimer's programming design and implementation for multiple special care programs, she has learned much from the greatest teachers of all, those who suffer daily with Alzheimer's disease. Drummond has a passion for educating others in ways to successfully meet the needs of Alzheimer's patients and often dedicates time to present her unique concepts at caregiver symposiums and various community health presentations.
Drummond's first book, "I Choose to Remember", is a reminiscing therapy aid designed to help individuals recapture the best of their yesterday. "Meet Me Where I Am", Drummonds's second book, is a comprehensive guide for Alzheimer's caregivers.
Website: angeltreepublishing.com
10) Beth Rooney Suereth, Founder and CEO Caregiving Pathways
Vision Statement: Helping families manage the hospital stay & prepare for the end of life. Free guides & tools.
Family caregivers can influence a loved one's hospital experience and health outcome — but only if they understand the power they have and how to use it. We invite you to join Caregiving Pathways on our mission to: Teach family caregivers how to improve patient health in the hospital, Decrease the cost of hospital care by reducing hospital days, ER visits, and preventable readmissions, Enhance the patient experience, Understand shifting care priorities,
Website3: caregivingpathways.com
11) Steve Hoffacker, CAPS, CEAC, SHSS – Certified Aging In Place Specialist-Instructor, Universal Design, Home Safety
Vision Statement: The mission is simple and direct: equip you to serve your aging-in-place clients. We provide training courses, consulting, and individual coaching sessions to help you envision and create solutions that allow people to remain living safely, comfortably, and independently in their homes, as they age in place.
Steve Hoffacker, CAPS, is a highly regarded, much in demand, and widely recognized Certified Aging In Place Specialist-Master Instructor, Universal Design Master-Instructor, aging in place thought-leader, and world-class educator throughout North America and beyond. His students (in-person and especially online) have come from all 50 states, 10 of the provinces in Canada, and more than a dozen other nations around the world, on every continent except Antarctica.
Website: stevehoffacker.com
12) Jola Piesakowska, CEO Build Mum a House; Designing A Home For All Ages
Vision Statement: In 2015 I built a house for my Mum…from scratch. I'm passionate about hunting out beautiful, thoughtful interior design that addresses reduced mobility issues spans ages, and is on-trend. Get inspired and build a home fit for you and your family.
My mum's in her 80s I'm in my 50's and my son's in his 20's. In 2015 I built my mum a house. I started out planning on a nice modern, simple house. The plot is at the end of a 1970s terrace, and I wanted it to fit into the neighbors' houses on the outside and be a gem inside. I had fallen in love with blogs and magazines full of beautiful and inspirational interiors. Join me hunting out beautiful, thoughtful interior design that addresses reduced mobility issues spans ages, and is again, on-trend.
Website: buildmumahouse.co.uk
13) Lisa Kendall, Gerontologist/Social Worker Coach & Mentor, passionate about supporting Elder Care Professionals' competence, creativity, and calm.
Vision Statement: I Help Professionals Master the Skills & Knowledge they need to care for Adults, Elders, and Every Member of the Care Partner Team.
As an Educator and Mentor for the Eden Alternative(R), I work with their Domains of Well-Being™ a lot, and I'm committed to supporting the well-being of everyone I serve. I thought a good way to introduce myself might be to use the Seven Domains to give you a sense of who I am and where I'm coming from.
Identity – Growth – Lisa A Kendall – Autonomy – Security – Connectedness – Meaning – Joy
I'm a social work psychotherapist and clinical gerontologist with a passion for working with adults, Elders, and organizations to support healing from past hurts, promote growth across the lifespan and facilitate transformation into the best possible version of ourselves.
Website: lisakendallconsulting.com
14) David Moyer, CSA, CEO Elder Honor
Vision Statement: Honor – Knowledge – Life
Experiencing this first-hand, hearing stories of others in similar or worse situations was David's motivation to do something. Since he and his wife were caregivers to their parents, he knew there had to be a better way. His approach was to provide education to anyone who was facing similar situations, so they didn't have to go through the stress of figuring out how to build the care while driving it down the road. David became a Certified Senior Advisor (see the video below). That experience led him to develop ElderHonor to be able to reach out to people to help.
Our goal is to help you honor your parents by educating you (caregivers) so that you have the knowledge to provide a better Life to your parent or loved one. Honor – Knowledge – Life
We are always open to hearing more about things you may need help with so drop us a note to let us know what we can do to take away fear, anxiety, doubt and turn that into confidence, clarity, and knowledge.
Website: elderhonor.com
15) Meg LaPorte and Jordan Evans, Created of Art Against Ageism
Vission Statement: Art Against Ageism exists not only to create and promote actions that tackle damaging stereotypes about age and aging in creative ways, but also to help others create their own campaigns that seek to raise awareness of, and dismantle, ageism.
Throughout modern history, art in its many forms has sought to address social issues, counter the harmful impact of mass media, and change our perspectives of the world. Artists have used a multitude of art forms, from visual, literary, musical, or performing arts to comment on, respond to, or advocate for change and engage communities in dialogue and consciousness-raising.
Meg LaPorte and Jordan Evans created Art Against Ageism as an alliance and media platform for the purpose of identifying, amplifying, and creating artistic endeavors that confront and tackle damaging stereotypes and misperceptions about age, older adults, and being older.
Website: artagainstageism.org
16) Dr. Eboni Green is an educator, published author, and co-founder of Caregiver Support Services
Vision Statement: We are Caregiver Support Services, a company that focuses on family and frontline caregivers. Our mission is to help people become great caregivers for the people and patients around them. It takes a team of people to help others and find solutions for the betterment of the community. We know that health can sometimes be stressful, but with the right support system and focused knowledge, offering care to those in need can be a rewarding experience.
Through our in-person Nursing Assistant and Medication Aide Program, we have trained over 2,000 caregivers. As we work to improve and enhance our company, to help caregivers from all over the world, our courses are now available online. We wish to see people learn and grow as caregivers, reaching new levels of quality care for all patients in need.
Caregiver Support Services (CSS) is a non-profit organization with a 501(c) (3) tax-exempt status. CSS was founded in 1998 by Terrence and Eboni Green, a husband and wife team after the couple recognized that most individuals who provide care for a loved one or client do not know where to start when it comes to gathering and coordinating resources and services. Now in its 23rd year, CSS has transformed a predominately grassroots regional supporter of caregivers into a nationally known non-profit with an entrepreneurial spirit. Our expertise is leveraging partnerships with national and international organizations to build engaging and innovative solutions for caregivers.
Website: caregiversupportservices.com
17) Matt Skallerud, President Pink Media, I Love Gay Seniors, has been in the LGBTQ+ digital space for over 25 years now, first with GayWired.com and SheWired.com, and now with Pink Media and the #ILoveGay network, helping companies reach their targeted LGBTQ+ demographic.
Vision Statement: Helping to Connect the LGBTQ Global Community Amplifying Your LGBTQ Message Worldwide Bringing Focus to LGBTQ Conversations Worldwide.
What #ILoveGay does is bring together the conversations and relevant content related to LGBTQ Seniors, where we participate in and become an active part of these social media conversations out where they are happening life, in real-time on Facebook, Twitter, Instagram, etc. As a business, we are participating in these conversations, identifying which individuals and brands are strongest in this specific niche market relevant to #LGBTSeniors, as well as determining who are the bloggers, vloggers, influencers, and various video content creators dominant in this space. Our intent and our goal is to interact with, work with and leverage their activity and user-generated content, while including #ILoveGay for both our site overall and on our various clients' behalf.
Website: ilovegay.lgbt
18) Guy Robertson Creator of The Positive Ageing Approach             
Vision Statement: Positive ageing is for those who want to do ageing differently.  The traditional approach tends to be passive, fatalistic, and rather downbeat.  The new positive approach is very different.  It understands that the 'mind' can have a significant impact on our physical and emotional wellbeing and positive ageing, therefore, focuses on the emotional and psychological aspects of ageing.
Guy has worked in numerous roles within the field of ageing for over a quarter of a century and is a passionate proponent of the need to develop more positive approaches to ageing.  He was Head of Strategic Planning for Older and Disabled Adults in a large urban Social Services Department, headed up a £60m Government prevention program designed to improve the lives of older people, was Editor of the academic journal 'Working with Older People', and produced a major scoping study of Transitions in Later Life for the Calouste Gulbenkian Foundation.
Website: positiveageing.org.uk
19) Ruth Winden CEO OlderYetBolder
Vision Statement: I specialize in helping men and women over the age of 50 find a way to make a contribution that deeply matters to them. Whether it's a lateral shift in your organization, a job promotion, a complete career move into a new field or deciding to invest your time and knowledge into non-profit work, I can help.
Fulfillment is my top value. There is nothing better than seeing my clients achieve what they never thought was possible; e.g. a day-to-day life that is rewarding in so many ways – whether it is finding a role that plays to their strengths; that fits with their interests and values; a place where they can make a strong contribution to a company, a cause or a movement. Or perhaps just getting the opportunity to forge a new path and find a new outlet for their talents.
My clients are baby boomers who are open-minded, talented, dedicated, interesting, genuine, and curious about what else life has to offer. They have aspirations to leave the world in a better place, and a determination to make a difference. Working for my clients is about more than a paycheck.
Website: olderyetbolder.com
20) Tammy Hickman, Retirement Specialist – American Senior Benefits of Texas
Vision Statement: At American Senior Benefits our motto is "Putting people back in the people business". As Field Manager, I am dedicated to helping America's growing senior population. I also help clients find financial instruments such as final expenses, life insurance, and annuities to stay financially secure. My mission is to take the stress out of medicare decisions by providing education and a variety of options, allowing my clients to enjoy the finer moments of senior life. Ask me how you can join my growing team of highly-motivated agents whose focus is on Medicare and working to help seniors get the coverage they need to stay healthy.
​I now proudly serve the Central Texas Area, providing insurance and retirement solutions to people of all ages, placing a special focus on the underserved senior market. My focus is on providing value and creating customer satisfaction through education and personalized service. I help my clients find the coverage they need at a price that makes sense for them.
Website: asbtx-tammyhickman.com
21) Rosann Moore, Therapeutic Recreation Specialist
Vision Statement: Helping family members and at-home caregivers to explore activity opportunities for older family members.
Caregivers Activity Source, a resource for the caregiving journey!
This site is home to a collection of activities and ideas for elders. It is also for the family members and health professionals that care for them. When it comes to activities, there are a variety of choices and a variety of elders with different interests and strengths. So explore! Hopefully, the ideas you find will spark creativity, refresh the soul, and keep our elders active and engaged in life.
Website: caregiversactivitysource.com
 22) Sailesh Mishra, Founder of Silver Innings
Vision Statement: The vision, mission, and goals of SIF are centered on creating and implementing services and programs that are holistic in nature and address the need to acknowledge the much-needed supportive environment that the elderly deserve. It looks at reintegrating the elderly into mainstream society and allowing them to live with dignity.
Silver Innings (SI) a Social Enterprise (For-Profit) was formed to provide need-based services to the elderly with the launch of a dedicated and comprehensive website for Senior Citizens www.silverinnings.com on 10th April 2008 under the leadership of Sailesh Mishra. The website provides a one-stop destination for all the information about "Graceful Ageing". Passion to work with Elders.
Website: silverinnings.com
23) Peggy Papert, Elder Care Consultants of Texas helps to streamline the steps needed to navigate through your loved ones later years.
Vision Statement: Elder Care Consultants of Texas can help you find solutions by recommending reputable elder care services and providers such as alternative living facilities, estate planning attorneys, certified public accountants, financial advisors, real estate agents, and home health, companion and hospice care firms, among others. Caring for aging loved ones is never easy. But we can make it manageable to find the best possible solutions for whatever issues arise.
There are few things in life that are more important than caring for elderly parents or other loved ones in need. Elder Care Consultants of Texas is here to help.
For over thirty years, Peggy has worked as a clinical social worker and counseled families and older adults through aging transitions assessed the physical and mental health of older adults and advised the elderly and their families about retirement and elder care nursing facilities as well as companion, home health and hospice care resources in the Dallas and surrounding areas.  She has served as a social worker in hospitals, private practice, and one of the largest religious institutions in the Southwest. Her longstanding relationships with numerous elder care-related agencies and communities have proven enormously helpful to families and older adults seeking her guidance. Like many others of her generation, Peggy helped her own parents locate the best care facility and attended to their daily health challenges.
Website: eldercareconsultantstexas.com
24) Maggy Pigott, author of  How To Age Joyfully
Vision Statement: Helping adults stay healthier by realizing their power over their own ageing and taking action, not only helps improve the individual's life but also benefits society, through lower health care costs and increased productivity.
I'm not a doctor, and certainly don't have any expert qualifications in 'ageing'. But, after 70 years, I'm beginning to get the hang of it. I've also learned a huge amount from others, older and younger, many with expertise in this area. And I'm Vice-Chair of a charity for thousands of older people called Open Age. 50% of my royalties from the book sales are going to this wonderful charity.
I'm Maggy Pigott, a positive, happy soul under normal circumstances. I'm relishing my increased freedom, time, and capacity, now the children are grown up and I'm no longer earning a living. I'm lucky, privileged, and grateful to have had a great life (so far) in large measure due to family and friends, modern healthcare, some good genes, and a certain amount of effort on my part. And, at the age of 70 but still feeling about 40 inside, I'm very much looking forward to what the future may bring.
Website: howtoagejoyfully.com
25) Norris L Roberts Jr., author of "The Still Here Series" Books are about a son in his forties 12-year caregiving journey with Alzheimer's dementia, diabetes, and heart disease.
Vision Statement: With this book, I celebrate all the things that make my mother special, while at the same painting a clear picture of the challenges most Alzheimer's patients and their families face. For anyone who doesn't know what to expect from an Alzheimer's diagnosis, this book covers many of the basics.
In 2008, I learned my mother suffered from Alzheimer's dementia and the resulting grief led me to start writing my thoughts down to help me process the news. Those thoughts became "Mama Is Still Here!" an inspirational tribute to my mother and a guide for those who find themselves in a similar situation.
Website: thestillhereseries.com
These 25 remarkable individuals are making a difference in the lives of others in unique ways, often because of their own personal experiences. This is my tiny effort to share what they do with my network; in the hopes, it will cultivate networking and synergies to make aging the enriching experience it is meant to be. The demographic transition of an aging global population will call on our best efforts and creative problem-solving.
Legions are out there employing their gifts in the service of others, often outside the spotlight of social media influencers in aging—I'm comforted in knowing this. May your ranks grow.
Star Throwers All…
Patrick